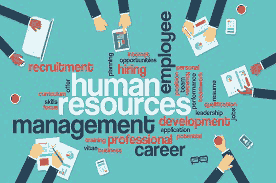 If you asked a large group of high school and college students about their ideal career, human resources may not make it on a lot of lists. However, there are many benefits to working in HR, and many common personality traits are ideal for finding success in this burgeoning field. Still have doubts? Here are a few reasons to consider a career in HR:
1. Your opinions really matter
One of the top reasons people leave their jobs is that they don't feel they're making a difference. Human resources professionals have a very powerful and direct influence on their organization. They're responsible for hiring talented employees, organizing teams and departments, resolving conflicts, and propelling the organization toward its short- and long-term goals. Put simply, much of the organization's future is in your hands. You're unlikely to feel irrelevant or left out.
2. You'll have growth opportunities and job security
The HR ladder has many rungs, and you'll have plenty of time to climb them. As a new hire, you might advertise jobs openings, process salary data, organize job fairs, and interview candidates. As you learn and grow, you can move into employee training, conflict resolution, departmental management, and planning. Top-level HR professionals can lead teams, design training programs, and prepare and negotiate contracts. And the word "human" in human resources isn't just for show. The human element is crucial to your role and can't be replaced by machines and software. If you perform well, you'll likely have a very long and lucrative career ahead of you.
3. You'll have options
HR positions are always in demand, whether at a small local business or a multinational corporation. Each setting presents unique responsibilities and learning opportunities. You can also choose to work for an HR firm that provides third-party recruiting and consulting services to multiple organizations. You'll meet with various clients and learn to adapt to different needs and goals. If you're fluent in multiple languages, you can even secure an HR position abroad.
4. You'll help shape the lives of others
The interactions you'll have with clients, candidates, and employees are arguably the most rewarding moments in your career. Whether you're onboarding new hires, providing advice to managers, or even addressing an issue between two employees, you're helping to move their career in a positive direction. If you have strong social skills, love to solve problems, and aren't afraid to take the lead, this is the career for you.
No matter where you choose to work as an HR professional, you'll need a solid foundation. Penn Foster's human resources management associate degree program can empower you to tackle various HR challenges and make a real impact in any organization.