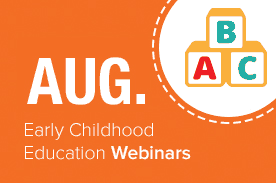 Penn Foster is pleased to offer FREE Early Childhood Webinars to our students and guests! For each live presentation attended, you will receive a certificate to share in your portfolio or to hang in your early childhood classroom/office. Please note that certificates will be given only to those of you that have logged in by clicking on the link sent in the confirmation email. Furthermore, to earn a certificate, you must be logged in for the entire session.
Here are August 2016's Early Childhood Education webinars. Follow the links to register for one or all of our free webinars. All times are Eastern Standard Time.
Thursday, August 4th @ 12:00PM EST
Topic – Learning the A, B, C's and 1, 2, 3's through Music and Movement
Instructor – Dr. Joanne Margaret Hynes-Hunter, Guest Speaker
Synopsis – Education should be and can be exciting and meaningful during the early childhood years. Integrating academic subjects with physical activity makes sense based on the child's natural interest and the need for movement. Learn how to create a dynamic, engaging classroom where all children grow and learn through movement.
Wednesday, August 10th @ 8:00PM EST

Topic – Pink is Passé, and Blue is Busted: Rethinking Gender Expectations, Identity and Diversity in the Early Childhood Setting

Instructor – Katie Walsh, Penn Foster Instructor

Synopsis – 2016 is an important and exciting time to be considering gender identity and diversity in early childhood education. In this thoughtful conversation, we will examine existing stereotypes that limit diversity, and we'll explore ways to encourage children to develop their own identity.

Thursday, August 18th @ 9:00PM EST

Topic – How to Recruit, Hire, Train, and Retain the Right Person for The Job

Instructor – Dr. Thomasa Bond, Guest Speaker

Synopsis – The best leaders are individuals that utilize their power with understanding. Participants will gain information needed to recruit, hire, train, and retain the right person for their position. Retaining the right person for the job will reduce staff turnover and provide continuity and consistency for the children. Questions will be asked and addressed during the session. The participants will be encouraged to express how the techniques discussed will be utilized in their facilities.

Tuesday, August 23rd @ 2:00PM EST

Topic – Going into Business: Opening a Child Care Center or Family Home

Instructor – Nancy Moretti, Penn Foster Early Childhood and General Education Department Chair

Synopsis – You have been caring for children as long as you can remember and cannot imagine doing anything else! Family and friends share that you should open your own business, but you are afraid to take the next step. Come join Nancy Moretti to learn the important steps needed in preparation of being your own boss.
Wednesday, August 31st @ 9:00PM EST

Topic – Let Superheroes Play

Instructor – Michael Ruzza, Guest Speaker

Synopsis – Everyone who works with children has been exposed to Superheroes in some fashion. Whether it's Superman, Batman, Spiderman or the Power Rangers, you've observed children pretending to be them. In the cases where children have developed a fascination with Superheroes, rest assured, this is not a bad thing. Superhero play can have an important and positive impact if coordinated effectively.