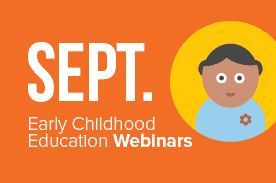 Tuesday, September 6th @ 8:00PM EST
Topic - Beyond Behaviors
Instructor - Michael Ruzza, Guest Speaker
Synopsis - One of the most important ways to address these challenging behaviors is to help children build resilience so that they can better handle the stresses in their lives. So how do we as early childhood educators help young children to develop the protective factors that support resilience? What can we do to help children and families who are experiencing adversity?
Thursday, September 15th @ 12:00PM EST
Topic - The Skills You Need to Succeed in an Early Childhood Setting
Instructor - Nancy Moretti, Penn Foster Early Childhood and General Education Department Chair
Synopsis - Dependability, reliability, motivation, initiative, communication, commitment, creativity, problem solving, flexibility, teamwork, leadership, time management, and conflict resolutions are important skills in the workplace, and being able to demonstrate these skills can assist an early childhood professional in standing out in today's competitive job market. In this session, Nancy Moretti will share the soft skills needed to be successful when working with children, families, and the community.
Tuesday, September 27th @ 8:00PM EST
Topic - Understanding How the World of Credit Works
Instructor - John Schroeder, Guest Speaker
Synopsis - This overview starts with how credit companies decide whether to say yes or no to an application. We will cover the basics of reading credit reports and how credit scores are determined. The hour concludes with how you can clean up your own credit (for free and on your own) if you have negative items on your report.