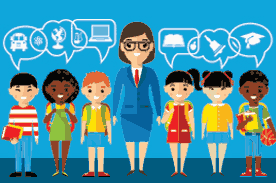 Do you enjoy helping kids grow up happy, healthy, and educated? If so, you might enjoy a rewarding career as a child care professional. These dedicated professionals monitor and care for children when their parents or guardians are away. The duties of a child care worker vary depending on the age of the children and the specific position chosen.
Whether you want to work for an established organization or start your own child care business, you can take the first steps toward working in the child care field with an education from Penn Foster Career School. Here are three popular jobs for professionals in this industry.
Child Care Center Professional
These professionals work together to oversee the learning and development of preschool children. For example, the Head Start and Early Head Start programs often look for dedicated team members to add to their staff. Child care center professionals may assist preschool teachers with lessons, classroom activities and recreation to build confidence and foster social skills in young children. They also take detailed notes on children's behavior and may discuss the children's progress with parents or guardians. Many states and employers require child care center staff to have a certification. For more information, check out our new Child Care Professional Career Diploma program.
Family Child Care Provider
A family child care provider performs many tasks similar to those of child care center professionals. The difference is that their own home serves as the care center and must meet certain state regulations. Family child care providers must also handle many additional business-related activities such as pricing their services, establishing legally valid contracts, setting hours, outlining details of care and methods for resolving behavioral issues, and more. These professionals must also have strong marketing skills in order to attract clients. Most states require family child care providers to become accredited through The National Association for Family Child Care (NAFCC). The process involves training and education, job experience, and monitored interactions with children.
Nanny
Nannies perform various child care tasks depending on their experience, education, and the requests of the parents for whom they work. They most commonly work in their clients' homes and often work solely for that family. Some live in their employers' homes, while others commute. While some nannies may agree to handle household tasks such as laundry, ironing, cleaning, grocery shopping, and meal preparation, their focus is generally on child care. A nanny should be able to teach, encourage, listen to, and comfort children, serving as their trusted friend and mentor.
If you love working with children and want to forge your own career path, the child care field offers plenty of opportunities. To learn more about careers in the child care field or to enroll in a child care program, check out Penn Foster Career School's list of child care programs.