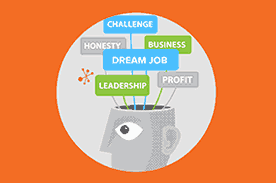 We've discussed job interview preparation before in the Student Life Blog, but when it comes time to make a positive – and lasting – impression on your potential employer, you won't want to leave anything to chance. Here are five things to bring to your next interview to show hiring managers that you are serious about the opportunity you've been presented:
Multiple copies of your resume. While the day of your interview most likely won't be the first time hiring managers will be seeing your resume, bringing extra physical copies of your resume shows that you are prepared and willing to openly discuss your employment history and professional skills. Print a few copies of your resume so you have enough to give to each person interviewing you, as well as one for yourself to help you progress through your talking points.
Pens and a notepad. Taking notes during an interview shows that you are genuinely interested in what the hiring managers have to say. It's also a convenient way to jot down any questions that arise during the interview and notes for your post-interview follow-up. It also doesn't hurt to bring more than one pen – just in case your first one runs out of ink!
Questions. Everyone has questions about their potential next job, but by preparing your questions beforehand you can be the candidate that stands out. Come prepared with questions that show that you've done your homework about the company and are genuinely interested in learning more about it. Need some help? Here are a few to get you started.
Your stories. Just as you want to avoid being vague when talking about your work experience in your resume, you'll want to back up your answers in an interview with concrete data or specific stories that illustrate your strengths. Keep a few notes handy in case you are asked to discuss your accomplishments so you don't find yourself caught off guard if asked for specifics.
Company research. It's not uncommon for hiring managers to ask you why you would like to work for their company. Having answers that show that you have done your homework before your interview is a great way to stand out from the competition and show just how committed you are to earning that position.
Whether it's preparing the right answers or knowing how to keep your cool during an interview, the key to feeling confident about an upcoming interview is to leave nothing to chance. Make a checklist with the items above in the days leading up to your big interview so you can be sure to show up prepared and ready to impress your potential new coworkers!
Sources
Interview Take-Along Checklist | Monster
What To Bring To The Job Interview | Forbes