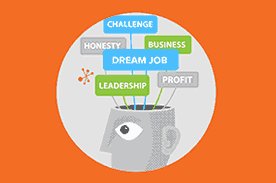 For those looking to land a job in their field immediately after graduation, networking is a necessity. Here are a few ways to network that will show others just how serious you are about pursuing your dream job – and just might help you land it!
Be open about your career goals. Do you want to be an executive at a company? Do you want to run your own business? Build a career roadmap for yourself and let others know where you see yourself in five, ten, or twenty years. Having a clear vision of what you want to do within an industry shows that you've put thought into your career path, and will let others know that you are taking your future seriously.
Keep track of your contacts. If you are fortunate enough to make a few connections within your chosen industry, don't lose them! Keep track of any business cards or contact information you collect throughout your networking, and consider transferring those contacts to an online, cloud-based system (like Google Drive) so you can access them even if you move, switch phones, or get a new computer over time.
Don't be afraid to ask family and friends. If you are choosing not to ask friends, family, or friends of the family for career help, you may be missing out on a valuable opportunity to break into your desired industry. It doesn't take much to ask your family or friends if they know of anyone working in a particular career field, and even if they can't get you a job right away they can certainly lend some insight into what working in that field is like.
Make the most of your internship. Internships are networking gold when it comes to learning new skills and building your list of valuable contacts. Use your internship opportunity to show managers that you have the knowledge and determination to work within that industry and you'll have a major advantage over the competition when it's hiring time for that company. Internships are also a great chance to work with others that have experience in your industry, so you'll be sure to learn a few things along the way. If you aren't able to secure an internship, consider volunteering for job experience.
Take advantage of social media. While most students will put off creating an active LinkedIn profile until after college, using LinkedIn as a student is a great way to get a head start on professional networking. If you do make new contacts, be sure to connect with them on LinkedIn immediately so they remember who you are – and if in time one of those connections is looking to hire someone with your qualifications, they will know exactly where to turn.
When it comes to creating opportunities to move up in your chosen industry, you don't have to do it alone! With the right strategy, networking with others can be a valuable tool to your professional growth. Try a few of our networking tips and see what valuable connections you can make that can lend a hand in helping you achieve your career goals.
Sources
Networking for Career Success: How to Make Professional Contacts | Study.com
Social Networking for Career Success | Forbes