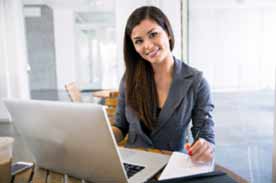 Whether you're 25 or 65, it's never too late to hop aboard the college train. Many adults want to go back to college, but are discouraged by rumors, personal fears, and their current responsibilities. Here are 5 myths of returning to college that you can crumple up and toss aside:
Myth 1: There are no scholarships or academic grants for adults.
Reality: Financial problems shouldn't stand in the way of your future. Many employers cover the cost of tuition and other academic expenses for employees going back to earn a college degree. In lieu of financial aid, enrolling in an online degree program might help you keep your costs low while providing the flexibility that many adult learners working a full-time job need to complete their studies.
Myth 2: You can't go to school while working full time.
Reality: Work, kids, and life in general can leave little room for college. However, there are now more ways than ever for adults to earn a degree. Online education can help shorten the time you need to complete a degree and work around your schedule. Many academic advisors have worked with busy adults and can help you find the best way to fit college into your life.
Myth 3: You can't keep up with the material.
Reality: Success in school depends not on age, but on dedication and an open mind. In fact, your rich life experiences will likely give you an edge in written homework assignments and exams. Be confident and share your perspectives, and don't be afraid to ask your instructors or even other students for help.
Myth 4: It will take too long to earn a degree.
Reality: If a lengthy academic road doesn't sit well with you, online education can help you move along in your studies at a speed that's comfortable for you. Many online degree programs let you study at your own pace and can help you graduate sooner, often in two years or less. For more information on accelerated college programs, visit Penn Foster College.
Myth 5: An online degree can't compete with a traditional degree.
Reality: Most employers pay relatively little attention to where you earned your degree. They want to hear what lessons you learned in the process and how you can apply them in your career. In fact, they are likely to be impressed that you took the time and effort to go back to college while juggling your other responsibilities.
Don't let your doubts stop you from pursuing your dreams and earning the education you want. Contact Penn Foster College today to learn more about how we've helped adults just like you achieve their goals.