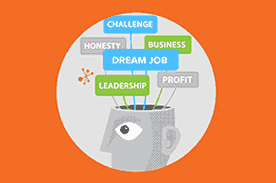 Volunteering is a great way to give back to your community, lend a hand to one of your favorite charities, and meet new people. When it comes to preparing for your future career, volunteering also be a major asset to getting your foot in the door of an industry in which you would like to work. Here are a few ways volunteering can help you get started on your career path – even if you're not sure what path that is yet!
Explore new careers. If you are unsure what career path you would like to take, volunteering is a great way to explore different fields and help you make a decision. Do you love animals but aren't sure if making it your profession is the right move? Try volunteering at an animal shelter or a local pet adoption day to see if the work involved is the type of work you would enjoy doing day in and day out.
Meet new people. Volunteering is a great way to make contacts in your potential industry of choice. Use volunteering as an opportunity to ask questions to those currently working in your field of choice, and find out what they like (and dislike) about their jobs. Exchanging contact information is also a great way to expand your professional network, build your list of references for your resume, and keep in touch with people who might be able to help you find a job if volunteering has influenced you to pursue that career path. Plus, if you approach volunteer work with the same drive you would a new career, you just might get noticed by those in leadership roles looking to hire someone with your ambition.
Gain job experience. While volunteer work doesn't bring in a paycheck, the right type of work can be a valuable asset for your resume. For example, if a career in graphic design is what you're after, volunteer your creative talents by designing flyers, web graphics, or new logos for a charity. Remember, just because you aren't getting paid doesn't mean your work doesn't count as professional experience! Volunteering can also help you hone your leadership, teamwork, and creative problem-solving capabilities, so when a hiring manager asks you to speak about a specific time you've shown those traits you will know exactly what to say.
Do you need professional experience? Are you looking to make new contacts in your future job industry? Do you need real-world experience to move ahead in your career? Volunteering is a great way to accomplish all of these while doing something you can feel great about. Check newspaper listings or contact local businesses to see how you can lend a hand. With the right attitude, determination, and experience, volunteering might be your ticket into an exciting new career!