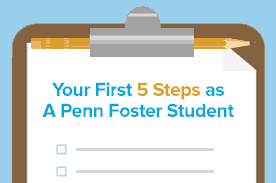 Not sure what to expect once you enroll in a Penn Foster program? Patrick Holmes from the Penn Foster Student CARE Team walks you through your first five steps as a Penn Foster student here on the Student Life Blog!
You've made a decision to enroll in a Penn Foster program. Congratulations! You have goals you want to accomplish, and Penn Foster's faculty and staff would like to help provide the foundation for you to accomplish those goals. Here are the first steps every Penn Foster student should take after they enroll to get the most out of their Penn Foster experience:
Know your Student ID number. That's your lifeline with Student CARE and your instructors. Our faculty and staff want to help you as much as we can, so don't hesitate to reach out to us if you need guidance – just be sure to have your student ID number on hand when you do.
Penn Foster students also need to sign an enrollment form. If you're under 18 years of age, an enrollment form will be mailed to you. However, if you're over 18, you will be able to sign your form online. Watch for the alerts on your homepage to sign it electronically, as this form will need to be signed before you can begin your coursework.
If you've attended school prior to enrolling in Penn Foster, you can send us official transcripts. That means the transcripts are sealed in the envelope from the previous school. Any applicable credits will transfer in, reduce your course work and adjust the tuition cost (where applicable).
All Penn Foster students have access to our Getting Started video. This video will walk you through the preliminary aspects of your program – and while short, it contains a wealth of information that you won't want to skip. If you happen to forget something covered in the video, don't fret! This video will be available throughout your time with Penn Foster in case you need a refresher.
Track your progress and challenge yourself to stick to a schedule with the Penn Foster Study Planner. Don't worry if you get off track, as you can update your exam schedule within the Study Planner app at any time.
You have a busy life, and accomplish your goals takes time, patience, and discipline. By spending just 20-30 minutes a day pursuing your academic goals, you will find that incorporating your studies into your everyday life isn't as tough of a challenge as you thought. Remember that education is a process, and while learning something new can certainly be overwhelming, we're here to make sure that you have the support you need to overcome any obstacles you face.