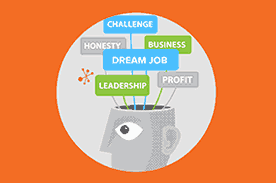 Crafting a unique and powerful resume is a great way to leave a positive first impression on potential employers. However, an error-filled resume can have the opposite effect, leaving you wishing that you had given your resume one last look-over before marking it as final. In this week's Career-Focused Friday post, we take a look at the top mistakes people make when submitting a resume so you won't have to learn about them the hard way!
Typos. While number one on our list may be predictable, you should never submit a resume that hasn't been triple-checked for spelling errors or grammatical mistakes. A resume with typos suggests carelessness and a lack of attention to detail, so before marking your resume as final be sure to have someone else - or even multiple people - proofread your resume for any errors you may have overlooked.
Leaving out the cover letter. A cover letter is your chance to set yourself apart from the competition. Consider it a sales tool that you can use to sell yourself and your skill set to a potential employer. Take the time to write a cover letter that clearly identifies your personal goals, your reason for applying for a job within that company, and the unique traits that make you the perfect fit for the position for which you are applying.
Using vague language. Employers will want to know your strengths - excellent leadership skills, expert technical knowledge, etc. - but they will also want to see examples that back up those strengths. When possible use exact numbers, concrete data, or tell a specific story of a time when you've demonstrated the skills you are using to sell yourself to an employer, rather than speaking in hypothetical or vague terms.
Not customizing your resume. Resumes aren't one-size-fits-all, and if you are applying for jobs at more than one company you are going to need more than one resume. Be sure to customize your resume to show how your experience and skills will benefit the specific company at which you are applying. If you are applying for two different jobs in which you will perform different functions in each position, revise your resume so you highlight the skills that best relate to each position.
Focusing on irrelevent prior experience. Don't include your entire work history if your former jobs are irrelevant to the position you are trying to obtain today. Employers want to see that your prior work experience has prepared you for the new position to which you are applying, so if you are applying for a graphic design position, it might be best to leave your retail experience off your resume - that is, unless you had graphic design experience while working in retail!
Lying. Honesty is the best policy - especially when applying for a new job. Instead of embellishing your resume in hopes of impressing a potential employer, be yourself!
Poor formatting. There are two different ways formatting can go wrong when submitting a resume: while a generic-looking resume template might not set you apart, an overly-stylized resume might distract employers from understanding what makes you a desirable candidate. Use clean lines, uniform bullets, and the same font sizes throughout your resume, and if you find yourself asking if you've overdone it with wild coloring or a fancy use of fonts, chances are you have.
When it comes to submitting a resume that will leave a lasting impression on employers it is best not to cut any corners. Use your resume as an opportunity to tell the story of why you are the person for the job, and don't hesitate to ask for some extra help in making sure that the resume you are submitting is perfect. Want to learn more about how Penn Foster can help you take the first steps towards a new career? Get more information right here.
Sources
9 Resume Mistakes You Can't Afford to Make | Forbes
14 Fatal Resume Mistakes | Salary.com
5 Huge Resume Mistakes Google's Head of HR Sees All the Time | Daily Muse