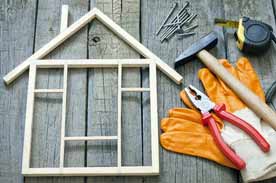 Do-it-yourself projects are a great way to save money and gain a sense of accomplishments. But some renovations and repairs – such as those that involve electricity and plumbing – should be left to the professionals. Choosing the wrong DIY project can lead to wasted time, effort and money, especially when you wind up calling in an expert to redo your work correctly. And in a worst-case scenario, it could be dangerous to you and your family. Here are a few steps you should take when deciding when to do it yourself versus hiring an expert:
Determine the overall scope of the project. Establish the size of the project in terms of money, time, and effect on your household. Ask yourself if you are refreshing an area or remodeling it – a refresh is fine for DIY but a remodel is often best left in the hands of a professional.
Determine the skill level of the job. Only professionals should handle high-skill jobs, such as electrical, plumbing and pest control. Depending on your DIY experience, you may try mid-level projects, such as deck work, which requires some element of skill. Polishing hardwood floors is a great DIY project but it is tricky, messy, and inexperience could produce poor results, such as footprints and dust embedded in the finish. Painting is an excellent project for a DIY enthusiast with beginner skills.
Evaluate the potential dangers of the project. Cleaning out gutters seems easy enough, for example, but climbing a ladder presents a risk for serious injury.
Estimate the time required to finish the project and the effect it will have on your household. Choose projects that you can complete in a weekend, such as painting the spare bedroom. Avoid longer projects that significantly disrupt your family life, such as a complete makeover of the one and only kitchen in your home. Determine how much time you have to devote to the project, including time spent repairing mistakes and making unexpected trips to the hardware store or lumberyard.
Calculate the cost of labor and materials. Cleaning your own pool is cheaper than hiring a professional, for example. In many cases, however, professionals get better pricing on materials. Factor in extra costs for repairing mistakes, especially if it is your first time doing a particular project.
Before you start your next project, take some time to determine whether you can do the job yourself or whether you'd be better off hiring a professional. Alternately, if you want to become a professional yourself, consider Penn Foster Career School's Home Remodeling and Repair Career Diploma, which can help you develop new skills and gain confidence in your DIY abilities.