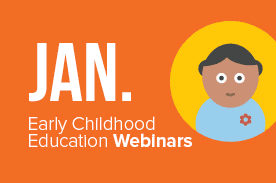 Penn Foster is pleased to offer FREE Early Childhood Education Webinars to our students and guests! For each live presentation attended, you will receive a certificate to share in your portfolio or to hang in your early childhood classroom/office. Please note that certificates will be given only to those of you that have logged in by clicking on the link sent in the confirmation email. Furthermore, to earn a certificate, you must be logged in for the entire session.
Here are January 2016's Early Childhood Education webinars. Follow the links to register for one or all of our free webinars. All times are Eastern Standard Time.
Monday, January 4th @ 8:00PM EST
Topic – A New Year Means New Opportunities to Engage as Reflective Teachers!
Instructor – Katie Walsh, ECE Instructor at Penn Foster
Synopsis – Hello, Early Childhood Educators! The New Year is upon us, and there's no better time than right now to review, refresh and recharge our Reflective Teaching Practices. We want the children in our care to develop a lifelong love of learning, and we can best achieve this goal by modeling and presenting ourselves as passionate learners too! In our conversation, we'll look at easy and effective techniques and strategies for improving the ways in which we engage as reflective thinkers and teachers. Take away innovative ideas, images, and instructions on how to breathe new life into your reflective teaching practices. This session is designed to offer ideas to early childhood classroom teachers, homeschool parents and in-home child care providers. Connect with fellow professionals as we support each other in our shared journey in Early Childhood Education.
Tuesday, January 5th @ 9:00PM EST
Topic – Reaching Different Learning Styles in the Early Childhood Classroom
Instructor – Dr. Rebecca J. Reynolds, Guest Speaker
Synopsis – This presentation gives an introduction to Howard Gardner's Intelligence Theories and demonstrates how to implement this theory into the classroom, creating a fun learning sanctuary for each individual child to love and explore.
Tuesday, January 12th @ 2:00PM EST
Topic – What Can I Do? Careers in the Field!
Instructor – Nancy Moretti, Department Chair of ECE at Penn Foster
Description – Join Nancy Moretti to discuss the wonderful opportunities that await you! There are many ways to be involved in the world of early childhood, and many rewarding careers to choose from! In this session, we will discuss how the field of early childhood/child development offers a large array of career options that can provide extremely satisfying work to individuals passionate about working with young children.
Thursday, January 21st @ 8:00PM EST
Topic – Five Transforming Steps to Marketing Your Childcare!
Instructor – LaDonna Woolsey, Guest Speaker
Synopsis – Five Transforming Steps To Marketing Your Childcare covers the stats and research behind social media marketing, SEO for childcare, web design, when and how to post, professionalism of the home or center, presentation of self and business, an effective phone and in person interview to close the sale and maintain a full enrollment with a waiting list.
Monday, January 25th @ 8:00PM EST
Topic – February's 100 in 50: One Hundred of the Best February-themed Engaging Early Learning Experiences Presented in Fifty Minutes
Instructor – Katie Walsh, ECE Instructor at Penn Foster
Synopsis – Calling all parents, professional caregivers, teachers, librarians, and friends of young children everywhere! Join us for our February edition of this monthly 100-in-50 webinar series. In this get-ready-for-February session, we examine the many ways to incorporate popular and less-known February themes into your early childhood classroom, library, or home. Experienced teacher, school administrator and Storytime Lady Katie Walsh has done the research and planning for you, and will share tried-and-true ideas for ways to incorporate themes like: Groundhog's Day Valentine's Day, Chinese New Year, Super Bowl, President's Day, Q&U Wedding Ceremony, and more into your ECE classroom, homeschool or library setting! Pick up a few new ideas, or an entire month's curriculum. Register for one or all twelve of the sessions in this series!
Tuesday, January 26th @ 12:00PM EST
Topic – Easing Parent and Caregiver Anxiety as Children Begin Early Childhood Programs: What Educators Need to Know
Instructor – Becky Dotzel, Grader at Penn Foster
Synopsis – Based on personal experience as an educator and parent of three, this presentation will serve to provide those in the Early Childhood Field (especially those who are not yet parents) with an understanding of the anxiety parents and caregivers often face when beginning an early childhood program. It will provide educators with an understanding that will increase their ability to establish early on a warm and trusting relationship with families. Strategies and research-based methods for reaching traditional, blended, and ethnically diverse populations will be discussed.
Thursday, January 28th @ 8:00PM EST
Topic – February Author Study of the Month: Normal Bridwell and Clifford, The Big Red Dog!
Instructor – Katie Walsh, ECE Instructor at Penn Foster
Synopsis – Attention parents, teachers, caregivers and librarians! Join us for the next edition of our "Author Study of the Month" webinar series as we're looking at Norman Bridwell and Clifford, the Big Red Dog. In this visit, we'll take a closer look at fun games and creative activities based on Mr. Bridwell's trending books. Teacher and Children's Library Program Coordinator Katie Walsh will share easy and engaging cross-curricular activities and exciting story time extensions, and will offer suggestions on how to easily incorporate an "Author of the Month" into your setting each month. Attend one or all twelve of the "Author of the Month" sessions.