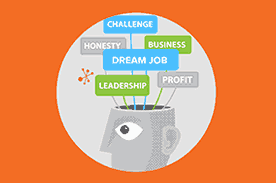 While balancing your schoolwork and personal life may be more than enough to keep you busy, most students choose to further their education with the specific goal of obtaining a job immediately after graduating. Although applying for jobs before you earn your degree may sound premature, many companies seek out students looking to break into a particular field for entry-level opportunities. Here are a few tips for obtaining a job in your industry of choice while continuing to earn your degree:
Consider what type of job you can manage. While it may be tempting to apply for full-time jobs within your field, remember that balancing school and work can be tricky. Consider how many hours a week you can dedicate to a job while still leaving yourself enough time for schoolwork and your personal life.
Prepare your resume. You might not have much professional experience in your field yet, but preparing a resume that shows off your strengths and selling points is a must. One major advantage that students have when looking for a job is access to career services. Use the resources provided by your school to help you pull together your portfolio and create a strong resume that sells you as a must-hire.
Check job board listings. Depending on what career services are available to you through your school, you may have access to a job board. Businesses will often contact schools with new openings within their company to attract potential student hires, and it's a great way to get a jump on a position before it is made available to a wider public audience. If you are a Penn Foster student, you will have access to the Job Board through the Penn Foster Student Community.
Contact businesses directly. If you know of businesses near you within the industry you would like to work, call them directly to see if they have any open positions for students. It's possible that you may be offered an internship or a part-time position, which are great ways for you to make connections within your industry for when you graduate.
Apply for a senior year internship. While your program might not require that you take an internship, senior year internships can often lead to full-time employment. If you are able to obtain a senior year internship with a company in your field of study, work to make yourself a valuable asset within that company to show your employer that you are a must-hire upon graduating.
Network with family and friends. There's nothing wrong with asking others if they know of any leads when it comes to finding a job in a particular industry. Provide friends, family, or even parents of friends with copies of your resume and see if they know of anyone that can help you get your foot in the door within your field of study.
Applying for jobs takes time, effort, and strong time management skills, but landing a position in your field of choice before you graduate is a major accomplishment that can help you get a head start on accomplishing your career goals. Check out Penn Foster's Career Services to see exactly how we help students prepare for their future career, or learn more about Penn Foster today.