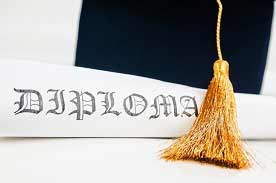 More than 30 million adults do not have a high school diploma. Unfortunately, many jobs will not hire workers who don't have one – and in today's competitive job market, you need every advantage you can get when applying for a position.
Getting your diploma can be the first step to changing your life. Here's a look at some of the most popular career fields that may hire high school diploma holders for a variety of positions. Which one suits your skill set?
Postal Delivery
The mail never stops, which means the postal industry will always have a need for motivated employees. With a high school diploma, you could start off delivering mail, working on your feet and staying active in your daily tasks. With experience and on-the-job training, you might eventually move up to become a postmaster or mail superintendent, positions that would require you to plan and coordinate administrative, management and supportive services of a U.S. post office.
Information Technology
Working an information technology job involves focus and determination, whether it's figuring out a system error or setting up a new computer. If you have a passion for working with computers and technology, why not pursue a job in this growing field? Nearly every company employs some type of computer support specialist or IT professional, so the list of potential employers is nearly endless. While many jobs require additional education or training, it is possible to break into the field with the right amount of self-initiative and self-training.
Carpentry
Are you good with your hands? Do you know your way around a tool box? If so, then you may find your niche in the carpentry and construction field. Carpenters work in a variety of settings, from reconstructing door frames to building bridges. And while many learn the trade through an apprenticeship, Penn Foster offers a specialized high school diploma track that can get you started off on the right foot.
Electrical
Electricians are typically detail-oriented and experts at solving problems. These professionals typically install and inspect electrical power, communications, lighting, and control systems in homes, businesses, and factories. This career provides flexibility and can include evening and weekend hours, so whether you work for yourself or as part of a larger company, you can find a schedule that fits your life.
Plumbing
Plumbing jobs include installing pipes and fixtures, studying blueprints and following state and local building codes, determining the amount of material and type of equipment needed, inspecting and testing pipe systems and pipelines, troubleshooting systems that are not working, and replacing worn parts. Specialize in residential plumbing or become part of a commercial plumbing team – the choice is yours.
With the right high school diploma program, you can take classes around your schedule, at your own pace – all while you prepare for a career that can take you places. It's up to you to take the first step. Contact Penn Foster High School today to learn more about how you can get started in a high school diploma program.