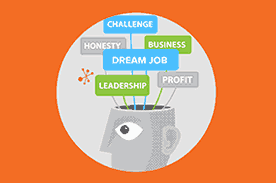 Feeling anxious about your first day at a new job is completely natural. Luckily, there are steps you can take to prepare for the start of this new chapter in your professional life! Check out the tops below to learn how to make a positive first impression when starting a new job.
1. Dress appropriately. Make sure you've checked out the company's dress code rules and restrictions. Although it may seem like an obvious precaution, making sure you are within company guidelines and showing up in the right clothes for your new position will help make a positive impression on those around you.
2. Strong handshake. Your first impression on a coworker can often set the tone for the rest of your working relationship. Make sure your handshake is strong and confident! A weak handshake could create an impression of passivity when you first meet someone. Instead, communicate to those around you that you are capable and ready to take on what is ahead of you with a strong, sturdy handshake.
3. Maintain a positive attitude. It's understandable to be stressed or feel pressure starting a new job. On-the-job stress can often times bring your mood down or alter your mindset. Staying positive through the adversity you may be facing will show hard work and determination on your end to power through any struggles you're up against. It's a great trait to emanate in a new environment and can demonstrate to your boss or manager that you are capable of dealing with difficult situations.
4. Listen carefully. It is important to listen actively and show your interest in what others have to say. Be attentive and hold eye-contact with the people with which you are interacting. Always bring a notepad to any meeting you attend. This signals you value what you are hearing and increases recall rates by as much as 80%. Showing appreciation to whomever you are speaking with can be the foundation of a strong and respectful relationship in your new work environment.
5. Mind your manners. Being on your best behavior might sound like another obvious addition to this list, but nerves can often get in the way of keeping your thoughts and actions straight. Make sure to stay calm, and try to focus on basic etiquette, staying away from any slang or other language that may make people think negatively of you.
6. Be yourself. A new job can be stressful and often provides people with anxiety in the beginning. More than anything, it's important to be yourself. If you got the job then that means you are not only good enough for it, but capable of taking on the responsibilities assigned to you. Don't forget to take a few deep breaths, and be the confident in your skills and abilities!
With your new job in full swing, make sure you put your best foot forward by using some of these helpful tips to make a positive first impression. Need more help on your road to starting a new career? Check out our career services for more on-the-job tips, as well as personality assessments, job search information, and more!
Sources
How to Make the Perfect First Impression (According to Science) | Huffington Post
Starting a New Job: How to Make a Good First Impression | America's Job Exchange