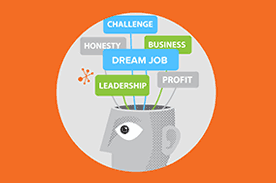 Do you feel stuck in your current position at work but unsure of what's holding you back? If you put in long hours and consistently produce quality work but can't figure out what's stopping you from making the next move in your career, it might be time to shake things up. Learning new career skills is a great way to expand your portfolio, get the attention of your higher-ups, and rejuvenate your professional life. Here are a few different ways to learn new skills to help you get ahead in the workplace:
Go back to school. Furthering your education with a college degree related to your profession is one of the most common ways to give a stationary professional life the shot in the arm it needs. While you might not think you have the time to attend school while working full-time, many colleges offer night classes specifically suited for those in the workforce looking to upgrade their skills. If that still seems like too much to juggle, online college courses allow you to further your education on your own time and at your own pace.
Get specialized career training. If you're not sure you need to earn a college degree but want to learn a specific set of skills, career training might be the right choice for you. Career certificate or diploma programs don't offer as rounded of a curriculum as college degrees, but can help you learn specific skills relevant to your profession in a short amount of time. Online career programs are available for those interested in setting their own schedule, and often allow students to graduate having learned valuable skills in just a few months.
Ask your manager for help. If you know the direction in which you'd like to take your career, let your superiors know! Most managers value employees that look to better their themselves through learning new skills, and can offer advice on how to you can take your career to the next level. Let your higher-ups know that you would like to increase your value to the company and ask about opportunities to take on new responsibilities: a good manager will be more than happy to help, and will appreciate your dedication to bettering your professional life.
Find free online training. While you won't be able to watch a YouTube video and walk away with formal certification, a lot can be learned from online tutorials and how-to articles. For example, Google offers several tutorials on their products (including Google Analytics, AdWords, and Webmaster Tools) that can help you upgrade your technical skills and add another layer to your portfolio. If you take this route, be sure that you are receiving training from an authoritative source that you can trust.
If you're finding that your professional life is at a standstill, don't be afraid to make a change. Upgrade your skills to become a more versatile employee, add some spice to your portfolio, and show managers that you are a driven employee ready to take on new challenges!