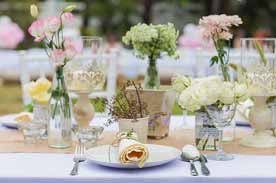 With a new wedding season comes exciting new trends in wedding planning. More couples are stepping outside the box to make their wedding creative, personal, and unique. Here are three of the most groundbreaking new ideas sweeping newlyweds off their feet that wedding planners can incorporate into their repertoire!
The bright and the bold
The days of modest tones are over. Bright colors are taking the main stage in everything from flowers to tablecloths to bridesmaid dresses. Lighting, wall decorations, and floor treatments will be bolder and brighter in hue. Warm colors will be featured prominently, balanced by bright and festive greens and blues. Natural-themed designs will pair nicely with metallic linens and sequins, which offer great versatility. Outdoor weddings will be the go-to choice, and more "I do's" will be said in daylight. In fact, many couples will offer guests a hearty brunch in place of dinner.
All plants welcome
No single flower will dominate bouquets and centerpieces. These floral arrangements will be comprised of local, in-season flowers, allowing for more variety to create a more fun, casual look. In fact, many couples will forego flowers altogether. Leafy plants such as festive ferns, decorative vines, sprigs, and potted trees can capture the scene on their own. Bare-branched plants offer ample opportunity for creative decorations. The local freshness further adds to the bright, upbeat feel.
Home and family
What better way to celebrate a gathering of friends and family than with down-to-earth, home-cooked meals and family-themed receptions? Homemade dishes and local catering will see an upsurge. Homemade desserts will be in high demand, and guests will have an opportunity to enjoy freshly prepared meals from both sides of the holy matrimony. In addition, assigned seating will give way to larger rectangular tables and plentiful open space. Guests can chat, mingle, and enjoy themselves with fewer restrictions. Table decorations and chef stations will help keep everything in order while maintaining the liveliness.
If reading about wedding designs excites you, you might enjoy taking the helm! Penn Foster's Certified Wedding Planner career program can provide you with the knowledge, skills, and inspiration to help you help couples capture their special moment with style and fun!