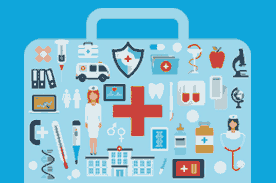 Work as a Healthcare Professional Without Attending Med School
When it comes to healthcare careers, surgeon, physician, and dentist are often the first occupations that come to mind. And while these positions are no doubt prestigious and require years of education and training, they also require help from a team of dedicated professionals. Let's explore some often-overlooked healthcare careers that keep hospitals, clinics, and private practices running smoothly — and won't require you to spend the better part of a decade in school.
Medical Assistant
A medical assistant is responsible for various tasks depending on their level of experience and place of work. Common duties include scheduling patient appointments, organizing health records, helping patients feel at ease, and measuring vital signs. Due to the versatile nature of the career, medical assistants can work for hospitals, clinics, third-party healthcare companies, government agencies, and private practices. A friendly, outgoing personality and a keen eye for detail are necessary to succeed in this in-demand career.
Pharmacy Technician
If you have strong math and organizational skills, you may enjoy a career as a pharmacy technician. Upon passing the Pharmacy Technician Certification Exam (PTCE), you can apply to work at a retail drug store, hospital, pharmacy, or pharmaceutical research company. You'll measure and prepare various drugs according to prescriptions, maintain accurate inventory, and help customers understand how different drugs treat different conditions. Due to the precise nature of drug prescriptions, pharmacy technicians must always be attentive, organized, and meticulous.
Medical Transcriptionist
Medical transcriptionists prepare various reports and documents from audio recordings and other media. They may use transcription software to assist in their duties, or provide quality checks for software-transcribed documents. Having these documents accessible saves time and helps surgeons, physicians, dentists, and other healthcare professionals focus on providing quality patient care. While many medical transcriptionists work for hospitals, clinics, and insurance companies, many enjoy the flexibility of working remotely. With the right credentials and experience, you can also start your own medical transcription business and set your own hours and rates. Our program can help you prepare to sit for the RHDS (Registered Healthcare Documentation Specialist) exam offered by AHDI (Association for Healthcare Documentation Integrity).
Veterinary Technician
If you love caring for animals, you may enjoy a career as a veterinary technician. These dedicated professionals assist licensed veterinarians with treating sick and injured animals, providing information and assurance to pet owners, and ensuring that every detail is accounted for. Vet techs have strong interpersonal and problem solving skills and are able to remain calm and focused under stress.
Dental Assistant
Dental assistants help dentists with everything from routine office tasks to teeth cleaning and care. They may prepare X-ray images of patient's teeth and gums, take molds, rinse and suction patients' teeth during cleaning, and instruct patients in proper tooth and gum hygiene. Dental assistants may gain more responsibilities with experience. Many work part-time or full-time and enjoy a rewarding and respected career.
If one of these careers is right for you, enroll in an online career program and take the first steps toward making a difference today!