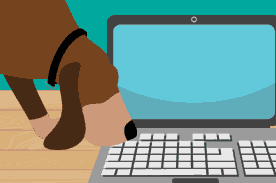 If you are interested in pursuing a career as a veterinary technician but not interested in taking the traditional college route, becoming a vet tech online might just be the alternative you're looking for. One of the biggest challenges prospective students face is knowing how to choose the right online college. To help, we've put together a list of five things your online vet tech school needs - from accreditation to hands-on experience - so you can enroll confident that you really are taking the first steps toward a new career!
1. AVMA-CVTEA accreditation. AVMA-CVTEA accreditation represents the highest standard of achievement for veterinary technician schools in the United States. Graduating from an AVTA-CVTEA-accredited institution is often required to become a licensed or certified veterinary technician. It is also valued by employers, as AVMA-CVTEA-accredited colleges must show that their students have met specific learning goals relevant to working in a professional setting! There are only a handful of online schools with full AVMA-CVTEA accreditation, so be sure to do your research before making a commitment to any school.
2. Flexibility. One of the major advantages to attending a veterinary technician online school is having the flexibility to learn on your own time and at your own pace. Choose a veterinary technician program that lets you study when it's most convenient for you.
3. Opportunities for hands-on experience. While much of the coursework in online vet tech programs can be done from home, securing an externship is a great way to gain practical, hands-on experience before you start your professional career. Look for online schools that have partnerships with veterinary hospitals to help make finding an externship easier.
4. Interactive content. Choose a program with engaging content to help you get the most out of your online vet tech classes. Some programs offer features like interactive games related to your coursework, practice quizzes to help you study for exams and prepare for certification, and mobile-friendly note-taking tools so you can work on your lessons on the go.
5. Strong support system. One of the most common challenges faced by students new to online learning is the lack of interaction with faculty, staff, and other students. Any online vet tech courses worth your while will have a strong support system that allows you to contact your teachers when you need help and interact with other students in your program. It's also worth looking into prospective schools' career support, which can be helpful for preparing for life after graduation.
Not all online vet tech schools are made the same. While it may be tempting to choose whatever program is least expensive, be sure to choose an AVMA-CVTEA accredited school that is able to support both your academic and professional goals. Interested in becoming a veterinary technician today? Penn Foster College can help you get started at $79 a credit. Learn more
here
.