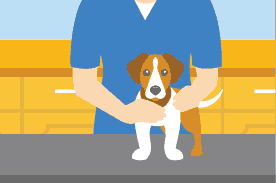 Have you considered a career as a vet tech but haven't decided if it's the right choice for you? We've put together this guide to becoming a veterinary technician to help you learn more about the industry and how you can take the first steps towards a career in animal care!
What does a veterinary technician do?
Veterinarians most often rely on veterinary technicians to do general care and lab work. Under the supervision of a veterinarian, a vet tech will also perform medical tests and assist in procedures related to animal illnesses or injuries. Check out this blog post to learn more about the differences between a veterinary technician and a veterinary assistant.
Where do veterinary technicians work?
The animal care field is growing at a much-faster-than-average rate, with the creation of nearly 18,000 jobs expected over the next eight years. There are opportunities for veterinary technicians in a variety of settings, but they are most often employed in:
Veterinary practices for small and large animals
Biomedical facilities
Wildlife facilities and zoos
Animal control facilities or humane societies
What qualities do I need to become a veterinary technician?
While a love of animals is a must for those interested in pursuing a career in animal care, it's not the only trait helpful for succeeding as a vet tech. Here are a few qualities that every veterinary technician should have:
Compassion. The health and well-being of animals is a veterinary technician's top priority.
Strength under pressure. As a vet tech, you might find yourself in stressful situations. It's important that you are able to remain calm and collected even in times of stress.
Detail-oriented. Every detail matters when it comes to an animal's health. Vet techs should triple-check their work and be sure not to leave out any details when relaying information to veterinarians.
Investigative. Helping animals often requires some analysis and fact-finding. Vet techs should be naturally curious, and enjoy the challenge of helping their patients.
What else do I need to know about becoming a vet tech?
Interested in learning more about becoming a vet tech? We've got you covered! Check out these resources and learn more about the animal care industry, veterinary technician accreditation, and more:
If your mind is made up and your heart is set on becoming a vet tech, take the first steps by enrolling in an AVMA-CVTEA-accredited Veterinary Technician Associate Degree program today!