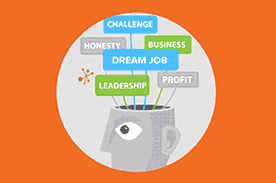 Looking for ways to be the best employee you can? Hoping to work on skills that help make you a better co-worker? Check out some of our tips on how to be a better team player at work!
1. Adapt quickly. It's easy to be passive when you see change happening. Instead, make a point of adapting to the changes that are occurring and even work to try and make positive changes on your own. It's important to be flexible and be able to find your feet when things shift in a project or an assignment.
2. Show a genuine commitment. Good team players are ready to commit and put in the work that needs to be done to finish what has been assigned. This commitment extends beyond their own work and also includes being committed to making strong relationships with those around them. By committing to the environment, who you're with, and what you're doing in it, it is easy to become a strong team player and to encourage those around you to do the same.
3. Communicate. Communication is key when you are part of a team. Speaking confidently and clearly with respect to ideas that others have can help you become a stronger team player. Share your ideas with those around you without overpowering them. With an admiration of others thoughts and passion, you're ideas and voice will be heard and stand out in the group that you're working with.
4. Meet deadlines. Being part of a team that means being responsible for your own work. If you're meeting your deadlines it will help you and the team stay on track and accomplish your goals together!
5. Appreciate others. Not every person is going to have the same work style and personality as you, but that's what helps make a great team! Make sure you appreciate other people's work styles and understand that each person provides a different skill set to help bring the final project together.
These are just some of the qualities that can help make you a better team player. For more on-the-job tips and career preparation advice, check out the rest of our career-focused blog posts on the Student Life Blog!

Sources
5 Ways to Become a Better Team Player | Forbes
5 Qualities that Make a Good Team Player Great | Career Advancement
Five Ways to Be a Good Team Player | Monster