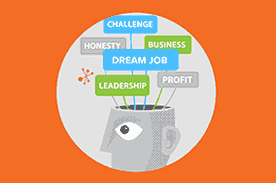 Looking to get the most out of your online presence in the business world? Not sure how to maximize what you're putting out there for possible employers and more? Check out these tips on how to optimize your LinkedIn profile so both you – as well as recruiters, hiring managers, and potential future bosses – can get the most out of your page!
1. Keep your information current. To make sure everyone looking at your profile is getting the most out of the page, stay up to date with your information. Even if this means changing a few details here and there, it's always important to make sure the information others see in your profile is current with what's going on in your professional world. Be sure to add any major work accomplishments, certifications, or other career-relevant information to your profile as it happens to show others your progress and successes in your professional life!
2. Make your profile stand out. Unbeknown to many, LinkedIn allow users to switch around change the order and location of the information on your profile. With this in mind, re-order your page to call out what is most relevant to you and your career goals. Highlighting relevant information allows you to draw attention to your strengths and help show those checking out your profile your biggest and best accomplishments right away.
3. Add detail and key words. By adding keywords and being specific in your descriptions and summaries, employers looking for someone with your skills will be more likely to find your profile. For example, increased sales by X percent, or saved Y dollars doing a key project. Don't be afraid to elaborate on experiences, jobs, and more. Although it may not seem like much, it makes a difference when people are looking at your profile!
4. Join groups and repost articles. Joining relevant groups is a great way to spice up your profile! Not only will it help your profile viewers get a better sense of your interests – it also helps show that you are interested in news and events within your industry! Plus, your profile is 5 times more likely to be viewed if you join and are active in groups on LinkedIn.
5. Highlight your education. Be as specific as you can be about your education. There are so many people out there who you may have connections with because of where you went to school, what you learned, and more. Members who add their education to their profile on average receive around ten times more profile views than users who didn't include where they went to school.
By following some of these tips, you'll be able to start making the most out of your LinkedIn profile and help spread the information that is most relevant to your career goals! Want to learn more about LinkedIn? Learn why you need a LinkedIn profile, and how to make all of your social media profiles career-ready!

Sources
How to Optimize Your LinkedIn Profile so Recruiters Come to You | Business Insider