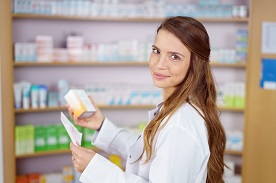 The healthcare industry has seen unprecedented growth in employment over the past few decades. According to Forbes, private-sector healthcare currently accounts for 13 percent of the total U.S. workforce. The steady expansion of our healthcare workforce continues even in times of recession and slow growth for everyone else. There will always be a need for healthcare services, and as the population continues to age that need will only accelerate.
In order to keep up with the rising tide of demand for healthcare services, there has been an explosion in employment for those holding professional certifications rather than doctorate degrees. When you visit your healthcare provider you may see a physician assistant, a medical assistant, or even a nurse practitioner. All of these careers offer the professional the same work environment as a doctor, but for considerably less schooling.
Pharmacy technicians are also part of this fast-growing trend of certified professionals. Technicians work under the supervision of a licensed pharmacist and assist the pharmacist in all aspects of the pharmacy short of giving professional advice. They may be certified or not, depending on state regulations (but must register with the state department). According to the Bureau of Labor Statistics, employment for pharmacy techs is expected to increase at a faster-than-average rate between now and the year 2024. Pharmacy technicians have a median annual salary of over $30,000, and for certified pharmacy technicians there is even more potential. Pharmacy techs have the opportunity to share the consistent, clean and professional work environment of pharmacists without such extensive schooling.
What Does a Certified Pharmacy Technician Do?
Being a certified pharmacy technician is not an easy career by any stretch of the imagination! Most pharmacy techs are on their feet for an entire eight-hour shift, but if you're seeking a fast pace and a stimulating, high-energy environment then it could be the ideal career for you. The range of settings in which a pharmacy tech's skills may be needed is vast, from hospital and clinic pharmacies to retail pharmacies, nursing homes, home health care settings, or even in the administration of large healthcare organizations. If you've always had a desire to work in healthcare but can't stomach the potentially messy side of things, becoming a certified pharmacy technician may be the perfect fit for you.
Depending on the setting and the particular employer, a pharmacy technician's duties often consist of:
Interacting with customers
Using point of sale technology
Answering phones
Counting and labeling prescriptions
Dispensing medication
Managing inventory
Billing insurance, and much more
Despite the broad range of daily job responsibilities, pharmacy techs all share some basic abilities and expectations. First and foremost, techs must have compassion and empathy for their patients. Constantly communicating with customers and coworkers is the single biggest part of the day. Remember, patients would not be visiting you if they didn't require something to fix what ails them. As in any customer service industry, there will be upset and therefore unpleasant customers. Forming rewarding relationships with patients who appreciate your services can make it all worthwhile.
Pharmacy technicians must also possess strong organization skills. Many medications, especially in hospital or compounding pharmacies must be handled in a sterile environment. Much of the equipment that techs use on a daily basis and the drugs that they handle are exceedingly expensive, and must be handled with care.
Along with organization comes prioritizing. Nurses in the emergency room call it triage, but the same principle applies in pharmacy. Techs are frequently pulled in all directions at once, and good prioritizing skills are essential to get the jobs done that need to be done first. Supervision is often minimal and the workday is relatively unstructured, and it is the responsibility of the tech to complete their work.
In addition, pharmacy technicians must possess some basic knowledge of math and biology. Interpreting prescription directions, and determining their appropriateness for the patient, is an essential task which requires performing basic math functions. These skills are part of the certification exams, and can be learned in a certification training program.
How to Become a Pharmacy Technician
What does it take to jump into an exciting, rewarding career as a pharmacy tech? Each state has its own regulations. A quick search of your state's Board of Pharmacy website should inform you of the requirements. Some states have no requirements, but many states require certification through one of two recognized exams, either the ExCPT or the PTCB. The exam is not easy to pass, even for those with experience, so many techs choose a training program at an accredited institution such as Penn Foster Career School.
Pharmacy tech programs are as diverse as the job field itself, offering a range of study programs from full time classes to online training. Penn Foster's online program can be completed in as little as nine months. After completing the program Penn Foster supports their graduates through hands-on externships with both CVS and Walgreens, two of the largest pharmacy tech employers in the nation.
A career as a certified pharmacy technician embodies the compassionate, patient-centered principles of the medical field but with considerably less time spent in school and more time out earning income, and enjoying a rewarding career. To take the first steps towards becoming a pharmacy technician, contact Penn Foster Career School today.