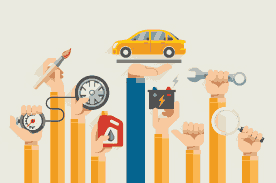 As vehicles become more versatile, efficient, and durable, auto mechanics must polish their skills and learn more focused techniques to keep them in top shape. Customers depend on auto repair technicians to diagnose and repair complex problems and maximize safety. Certifications help auto repair technicians provide quality service and distinguish themselves as experts in the field. Below is a brief guide to the industry's most prominent auto repair certifications.
ASE Certification: The Industry Standard
The Automotive Service Excellence (ASE) standard is used to distinguish auto repair technicians who demonstrate proficient knowledge and skill of vehicle repair. ASE certifications are divided into eight categories each for cars, trucks, and buses. These categories are numbered from A1 to A8, with each representing an essential vehicle component such as engine repair, steering, electrical systems, and heating and air conditioning. Once you've earned all eight certifications and become ASE certified, you can go on to take the ASE Masters Certification exam.
ASE Masters Certification
With all of the 'A' certifications under your belt, you can take the Masters Certification exam at an approved testing facility. Just as a Master's degree in a field can help lead to greater recognition and more rewarding career opportunities, having an ASE Masters Certification helps to distinguish you as an adept auto repair technician and makes for a prominent selling point on your resume.
Additional Certifications
After becoming ASE certified, you can pursue various secondary certifications depending on your career goals and the type of vehicles and systems you want to specialize in. For example, you might want to focus on transmission repair or work exclusively with a certain vehicle make. Having the right certification can give you an edge when applying to a specialty auto repair shop. If you're not sure which certification(s) to pursue, you may find it helpful to earn multiple certifications across diverse areas. Having a broad repertoire of skills will help you whether you choose to work for an established shop or start your own auto repair business.
Maintaining Your Certification
Holders of an ASE Masters Certification must also earn recertification every five years. This requirement is designed to refresh your skills and knowledge and keep you up to date on the latest vehicle technologies and repair processes.
Beyond ASE: Manufacturer Certifications
Vehicle manufacturers provide focused training programs and certifications. These usually entail completing various hands-on courses and experience repairing the manufacturer's vehicles. Picking up a few manufacturer certifications adds to your versatility and improves your overall knowledge and skillset.
Are you ready to earn your first ASE Certification and become a distinguished auto repair technician? Enroll in an online auto mechanic certification program today and take the first steps toward gaining control over your career and future.