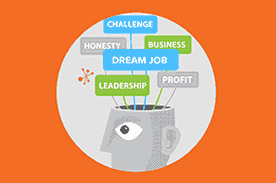 It's a great time to be creative. Never before in history have there been so many creative jobs been available in such a wide variety of industries. Whether you prefer a computer or a paintbrush (or anything in between), you have a constantly-growing list of careers to choose from. Here are three of the most compelling career opportunities for creative individuals:
Graphic Design. Graphic design is great for creative people who also enjoy working with computers and digital media. Graphic design requires an understanding of both computer software and the more traditional design elements of layout and style. Graphic designers can work in a wide range of industries, such as publishing, advertising and manufacturing. According to the Bureau of Labor Statistics (BLS), graphic designers have a median salary of about $45,900.
Interior Decorator. Interior decorators combine creativity with functionality to make the most out of a given space, whether that's a bedroom or the executive suite. While job growht is only around 4% for this field, the median salary is a healthy $48,400. A degree in Interior Design can help make aspiring designers more valuable in the eyes of potential employers as well.
Web Page Designer. Web page designers are responsible for the creation of the "front-end" of websites – i.e., the part of the site that users see. Some designers are even responsible for the "back-end" or technical aspect of the site. With countless new websites coming online every day, and with businesses expecting more and more from their sites, job opportunities are quite robust, with an estimated 27% growth by 2024.
If you want a career that allows you to use the right side of your brain and explore your creative capabilities, Penn Foster College can help. Contact us today to learn more.