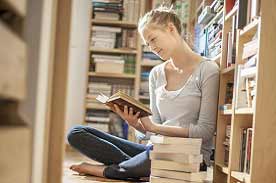 College admissions are more competitive than ever, so high school students who plan to attend college need every advantage at their disposal. For homeschool students who may not have access to traditional high school resources, it's important to maintain a robust reading library full of books from a wide range of authors. Here's a guide to setting up a home library that can give students the edge they need to succeed, both in high school and college.
The goal of a high school home library. While having a library stocked with great books is a worthwhile goal for anyone, it's especially important for growing young minds as they prepare for college. And just as homeschool curriculum often provides a more personalized way to learn, a home reading library gives students the opportunity to expand their knowledge in areas they find most interesting and exciting.
Key books high school students should have in their library. While there is no hard rule on what types of books should be in a homeschooled student's reading library, there are a few categories you should strongly consider due to the long-term value they offer.
Classics. Classics like William Shakespeare's Hamlet and Ernest Hemingway's For Whom the Bell Tolls give students a sense of the cultural roots of literature.
Historical. Historical books can be non-fiction, such as Anne Frank's Diary of a Young Girl, or fiction, such as Charles Dickens' A Tale of Two Cities. These books help round out your student's education by offering a narrative that surrounds a particular period, event, or historical age.
Non-fiction. Non-fiction is often overlooked by some public schools. Reading non-fiction such as Up From Slavery by Booker T. Washington, or The Nature and Destiny of Man by Reinhold Niebuhr can give students an appreciation for non-fiction that many public school students lack. For a more complete list of highly recommended non-fiction books, be sure to visit the Modern Library list.
College prep. There are a multitude of college prep books that are designed to give high school students the knowledge they need to excel in their first year of college. Be sure to check reviews on Amazon or elsewhere before choosing one for your student.
Miscellaneous. Whenever possible, find books about subjects that interest your student. In addition to being more fun to read due to the subject matter, these books could even inspire your student to pursue a rewarding hobby or career.
Online resources for homeschooled students. The Internet has made more information available than ever before. For example, there are now countless digital titles available for free on Kindle. For a partial list of some of these titles, be sure to check out this list.
With an expansive home library, homeschool students can earn a well-rounded education and prepare for success. Check out local bookstores, online retailers, and yard sales for great deals on books your student can enjoy for years to come.