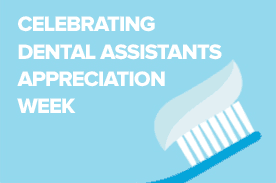 Whether you're getting your regularly-scheduled check-up or serious dental work done, it's up to dental assistants to ensure that your experience runs as smooth and stress-free as possible. This week, we honor those that make a true difference in your smile – as well as those working toward their career goals in our Dental Assistant program – during National Dental Assistants Appreciation Week!
Dental assistants play a major role in a dentist's office balancing technical tasks with patients' comfort and safety. Dental assistants carry out several different tasks on a daily basis, including:
Sterilizing equipment
Communicating with patients regarding simple dental health maintenance or postoperative measures
Processing x-rays and completing lab tasks
Scheduling patient appointments
Working with patients
This week, take time to appreciate the hard work put in by dental assistants to help brighten your smile and your experience at the dentist's office – and if you're interested in an exciting career that combines healthcare and technology while allowing you to work with people, learn more about becoming a Dental Assistant today!