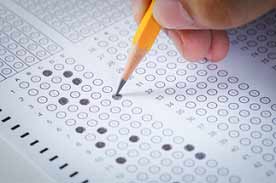 The Pharmacy Technician Certification Exam (PTCE) is a computerized test containing 90 questions administered in two hours. Passing it earns you your pharmacy technician certification and gives you access to many career opportunities in this growing field. While the PTCE comprises a great deal of information, the study tips below can help you memorize the most important terms and definitions and pick up on patterns to help you deduce the correct answers.
Pace yourself. Moderation is the key to memorization. Trying to memorize all 200 of the top PTCE drug names will only leave you exhausted (and likely forgetful). Instead, set smaller daily or weekly goals. For example, you might try to memorize 50 drug names every week, or roughly 7 to 8 per day. When you think you've memorized one batch, quiz yourself before moving on. It also helps to review the previous session's names at the start of each new session. Stick to a few words each day and you'll be ready come exam day.
Start studying early. We've all put in a cram session at one point, but the breadth and depth of the material on the PTCE is best tackled gradually. Depending on your schedule, you'll want to begin studying at least several weeks in advance. It may feel challenging at first, but keep at it and you'll quickly adapt.
Use flash cards. Don't underestimate the power of the tried and true flash card, especially for digesting a long list of terms like those on the PTCE. You can quiz yourself or have a friend or family member quiz you. Separate the cards into two piles – one you've mastered, and one that needs more work. Review the cards daily until all of them sit in the mastery pile.
Record your voice. Auditory learners will benefit greatly from this strategy. Pick up a digital voice recorder or cassette tape recorder and record yourself speaking the information. Play it back while driving to and from work, exercising, or walking the dog. If your computer has a microphone, you can also record a sound file and download it onto your smartphone or other device.
Make wall posters. An alternative or supplement to using flash cards, wall posters can turn your room into a dedicated PTCE study area. You can write the names of the drugs using markers and categorize them by color. You can find blank poster boards at your local office supply store.
Repeat, repeat, repeat. Sometimes, nothing beats old fashioned repetition. Write or say the terms and definitions out loud until it becomes second nature. Remember that the PTCE is timed, so aim for both speed and correctness.
Above all, remember that every student has their own preferred way of studying. Penn Foster Career School's Pharmacy Technician Career Diploma program can help you discover yours as you take the first steps toward a rewarding career in this growing field. You'll have access to specialized resources and experienced instructors dedicated to helping you succeed. And our partnerships with CVS and Walgreens' pharmacies allow you to complete an externship, giving you valuable real-world experience in the field. Ready to learn more?