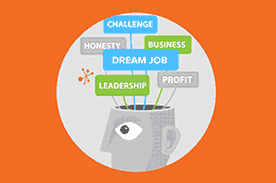 Whether you are recent graduate trying to get your foot in the door of a new career or someone looking to change careers, navigating your job search can seem overwhelming – but it doesn't have to be! Finding the right job opening can be stress-free if you know where to look. Here are a few resources to turn to when it comes time to find the next step of your career path:
Job Boards and aggregators. The starting point for most people looking to make a move in their professional life is a job board – which includes popular sites like CareerBuilder and Monster, as well as aggregator sites like Indeed and SimplyHired which repost job listings from around the Internet. If you are looking to get a reading on what types of jobs are commonly available, or just want to browse job listings, a job board would be the place to the start. You can also try industry-specific job boards (RX Career Center posts Pharmaceutical jobs, for example) to help narrow down your search.
Company websites. Not all companies turn to job boards like Monster to post job listings. If you know of companies in your industry for which you would like to work, head to their website and find their "Careers" center. Many companies post job listings directly to their own site and allow applicants to submit their resume straight to the HR department. If you don't see a "Careers" option, consider contacting the company directly to see where you might find future job postings.
LinkedIn. Over the past few years, LinkedIn has turned into a job search giant. Not only can companies pay to post and promote their job listings on LinkedIn, but you can search your professional network to see which of your connections work at those companies. Remember, you don't need to wait until after you graduate to create a LinkedIn account, and keeping an active profile is a great way to keep track of any contacts you've made at conferences, internships, or other networking events.
Twitter. While Twitter does not host official job postings, many companies will post open positions on Twitter with links to where you can apply. Consider searching for "job opening" or "job posting" along with your desired industry to see what companies are putting out there. While you can narrow your search results to a specific location, looking at postings throughout the country – and world – is a great way to compare projected salaries and measure how competitive your field is on a national or global level.
Industry association websites. If you are a member of a professional organization within your industry (ex. American Institute of CPAs, Institute of Electrical and Electronics Engineers), you may have access to job postings within your industry before they make it to the larger job posting websites. Professional organizations can also be great sources for professional networking and learning more about the industry-side of your chosen career path.
The majority of job postings today can be found online – and though you might find a position that fits your skill-set fairly quickly, don't be surprised if you have to wade through several websites before you land on something that sounds right for you. Finding a position that fits within your career roadmap isn't always automatic, but with patience, determination, and enough research, you might be surprised by the opportunities you find within the resources above.