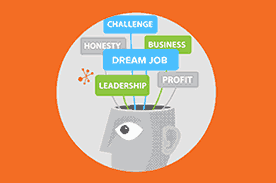 We know that most people working part-time would rather be working full-time in their industry. However, those looking to start a new career, part-time jobs can be a great entry point when it comes to gaining experience, making connections, and learning about a company. Here are a few tips for turning a part-time job into a full-time career, as well as making the most of any opportunity to gain experience in your industry:
Master your responsibilities. Before you are considered for a full-time position, hiring managers will want to see that you can accomplish the part-time responsibilities you were hired to perform. Make yourself an expert in your role, triple-check your work, and approach your part-time tasks with the same enthusiasm you would a full-time role.
Show that you are dedicated. Little things like showing up to work on time, staying a few minutes late, dressing appropriately, and maintaining a positive attitude with your coworkers can go a long way in showing that you are taking your part-time opportunity seriously.
Learn new skills. Working alongside those within your industry can open your eyes to in-demand skills. Take the time to learn from others or learn new skills on your own to help bulk up your resume and show that you have more to offer than the part-time tasks you were hired to perform.
Take initiative. If you have downtime at work, use that time as an opportunity to ask about other projects with which you can lend a hand. Taking the initiative is also a great way to learn new skills and show that you are a team player willing to go beyond their typical responsibilities to help others get the job done.
Make your intentions known. Making your career goals known lets managers know that you are thinking about the future – both your future and the company's. Without being pushy, let others know of your career aspirations and inquire about any full-time positions opening up in the future – it's possible that you'll hear about opportunities before they are made known to the general public, and if you've established a good reputation in your part-time role you will already have a head start in making a good impression on hiring managers.
Making the jump from part-time to full-time employee isn't always a quick process, and being offered a full-time position isn't always a guarantee. However, by showing your dedication and commitment – as well as learning new skills to raise your professional stock – you can help improve your chances of making a positive impression on hiring managers and bring your name into the conversation when it comes time to hiring new full-time employees.