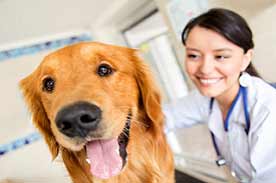 While many people are drawn to careers as veterinary assistants because they love animals, there are plenty of other reasons why veterinary assistant training may be right for you. One of the biggest reasons: a wide range of job opportunities once you graduate. Read on to learn more about the many options available to today's veterinary assistant school grads.
Veterinary Assistants in the Workplace
When you think of veterinary assistants, you may immediately picture an employee in a typical veterinarian's office or an animal hospital. And while many veterinary assistant graduates take jobs in these settings, others pursue positions in humane societies and rescue leagues, zoos and wildlife sanctuaries, and boarding kennels.
No matter the setting, veterinary assistants typically perform a wide range of duties, including:
Feeding, bathing, and exercising animals
Cleaning and disinfecting cages, kennels, examination and operation rooms
Restraining animals during examination and laboratory procedures
Maintaining and sterilizing surgical instruments and equipment
Monitoring and caring for animals after surgery
Administering medication or immunizations that veterinarians prescribe
Assisting in the collection of blood, urine, and tissue samples
Veterinary Assistants Are in Demand
Whatever direction you choose, you can do so with the confidence of job security – job openings for veterinary assistants are expected to experience consistent growth over the next 10 years, according to the U.S. Bureau of Labor Statistics.
As medicine and science continue to evolve, more treatments will become available for animals – and with this progress will come a need for skilled veterinary assistants. With accredited online veterinary assistant courses, you can work toward meeting that need and earn the job you want.
If you're ready to take the first steps toward a challenging and fulfilling career as a veterinary assistant, Penn Foster Career School's online vet assistant program can help you get started. Contact us today for more information.
Sources