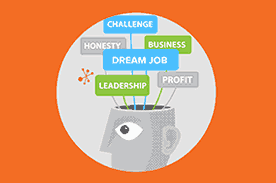 A common misconception among college students is that LinkedIn is a social network intended solely for career professionals with several years of job experience. The reality is that LinkedIn is a powerful tool that you as a student can use to get a head start on your career goals no matter how detailed your work history or professional experience. Here are a few reasons why students should have an active LinkedIn profile, and how utilizing LinkedIn might help you get your foot in the door of a new career:
Internship and entry-level opportunities. Many companies use LinkedIn as a tool for finding interns and entry-level workers looking to break into a particular industry. For college students looking to gain work experience or test their skills in a working environment, LinkedIn can be a great resource for finding job postings or internship opportunities. LinkedIn also promotes jobs and internships relevant to your career interests, so having an active, up-to-date profile is important for finding opportunities within your chosen field.
Networking resources. The flipside to LinkedIn's powerful job-hunting resources is its extensive professional networking capabilities. A professional network is something that you build over time, and having a LinkedIn profile as early as your first year in college can help you establish a database of professional connections that can serve as great references or fill you in on any open positions within your industry.
Build your personal brand. Have you earned a professional certification, published a paper, or recorded a video relevant to the industry you're studying? LinkedIn is the perfect place to host your contributions and accomplishments, which can help you stand out among your professional network and show just how serious you are about your career future. By actively adding to your LinkedIn profile as a college student you can build a media-rich portfolio by the time you start looking for work in your industry - something that hiring managers will be sure to notice if they look up your profile after receiving your resume.
Research companies. Just as potential future managers can look at your profile to see your professional portfolio, you can use LinkedIn to research companies for which you are interested in working. Visit a company's profile for job postings, reviews by current and former employees, company history, and anything else that might help you decide whether the business in question is one that fits your career aspirations.
Industry trends. LinkedIn is a global network that can help you put your finger on the pulse of what jobs are in high demand, which skills are desired by employers, and average salaries within your industry around the world. If you are a person willing to relocate for their career, you can use LinkedIn to research the cities, states, and even countries where your skills are most sought-after.
LinkedIn is not just a tool for established professionals to connect with one another. As a student, LinkedIn can help you build a powerful professional network, impress industry hire-ups with your portfolio, and discover jobs that match your skill set and career ambitions. If you are a student without an active LinkedIn profile, consider signing up and completing your profile to get a jumpstart on accomplishing your career goals while still pursuing your education.
Sources
Why College Freshman Need to Major in LinkedIn | Forbes
7 Ways College Students Can Benefit from LinkedIn | Undercover Recruiter