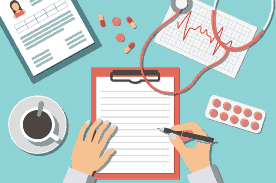 Healthcare is one of the fastest growing fields both in the U.S. and globally. Becoming certified in a focused area of study can help you stand out when applying for a job. Here are four healthcare certifications that can help you take steps toward accelerating your medical career and impressing employers:
Pharmacy Technician. Certified pharmacy technicians work with licensed pharmacists to provide patients with proper medication and other treatment options. Students who wish to enter this profession can earn their certification through either the Pharmacy Technician Certification Board (PTCB) or National Healthcareer Association (NHA). Both programs require a minimum of a high school diploma as well as additional education and training. Topics covered in these training programs include human anatomy and physiology, drug characteristics, pharmaceutical laws and regulations, administrative processes, and drug terminology.
Pharmacy technician jobs are projected to grow at a faster-than-average rate of 9% percent annually between now and 2024. Employers include department stores, retail pharmacies, hospitals, wholesale drug companies, online pharmacies, private clinics, and other venues. As technology evolves and more pharmacy jobs enter the market, more diverse opportunities are likely to arise in this fast-paced field.
Medical Billing and Coding. Certified medical billing and coding professionals handle a variety of clerical tasks such as preparing insurance forms, filing and reviewing claims, and billing customers. Students can earn their certification in less than one year upon completion of the American Academy of Professional Coders (AAPC) Certified Professional Coder (CPC) exam. With a predicted growth rate of 8%, certified medical coders and billers can work for hospitals, physicians' offices, insurance companies, and other settings.
Topics covered in Medical Billing and Coding training programs include healthcare laws and ethics, healthcare reimbursement, standard coding systems, medical terminology, and human anatomy and physiology. The CPC certification is highly sought after by employers and is a prerequisite for higher-level certification exams.
Learn more: Your Medical Billing & Coding Guide.
Medical Assistant. Certified medical assistants are well-versed in both clerical and clinical skills required in healthcare settings. They tend to be focused, excellent communicators, and have both the medical knowledge and interpersonal skills to perform various roles in the organization. Students in Medical Assistant training programs learn an array of topics including human anatomy, medical law, CPR, drug terminology, and pharmacology. Upon completing either the Registered Medical Assistant (RMA) or Certified Medical Assistant (CMA) exam, students can embark on a rewarding and versatile career or continue their education.
Medical assistant jobs are projected to climb by 23% in the coming years, making this field ripe with opportunity for certified professionals.
Medical Transcriptionist. Medical transcriptionists produce accurate, concise, and detailed records from medical recordings. They must have strong math, English, typing, and proofreading skills and broad knowledge of topics such as human anatomy, pathology, pharmacology, and medical law. Training programs in this field teach students how to prepare a variety of medical reports for operations, autopsies, medical histories, physical exams, diagnostic imaging studies, and more. While certification isn't required to work as a medical transcriptionist, certified applicants have access to more opportunities. The Association for Healthcare Documentation Integrity (AHDI) requires applicants to have three to five years of work experience to qualify for the exam.
Medical transcriptionists typically work at hospitals, clinics, physicians' offices, or remotely from their own homes.
There are many different ways to make an impact in the healthcare field. Explore a variety of in-demand healthcare career programs today and take the first step toward a rewarding career at Penn Foster Career School. Contact us today to learn more.
Sources
Pharmacy Technician | BLS
Medical Billing and Coding | BLS
Medical Assistant | BLS