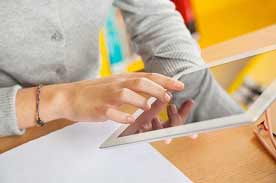 These days there's an app for everything, and education is no exception. Clever developers have designed apps for nearly every subject, including math, science, social studies, language arts, history, art, and music. Here are a few fun, innovative, and educational apps that K-8 teachers can appreciate.
Field Trip
Field Trip acts as a handy tour guide for your next class excursion. The app provides detailed information about famous historical sites as you pass by them on foot or by bus. It's a fun and intuitive way for kids to connect with the past virtually while they visit in person.
Class Messenger
This free and simple-to-use app makes communicating with parents a breeze. Much like an opt-in email list, Class Messenger lets parents "subscribe" to a class, where they can then receive messages and important updates via text, email, and through the app itself. Teachers can also categorize messages for easier sorting.
eduClipper
This app works like social media for education. Teachers can clip and share articles, videos, and other digital content with students. eduClipper also lets you provide feedback on assignments and projects using voice recordings, videos, and other media. Best of all, it's free.
STOPit
STOPit addresses an often overlooked and underreported issue in education: cyberbullying. Kids are often too embarrassed to report bullying to adults directly, but STOPit allows them to report it to teachers, principals, and other adults in their community instantly and confidentially.
Slice Fractions
This app simplifies and brings to life one of the most difficult topics in early mathematics for students to master: fractions. Slice Fractions uses colorful lava shapes, wacky hats, and a lost elephant to make fractions simple as pie. Students explore various topics as they guide the elephant safely across volcanic danger.
Plants to Vines: The Forest Biome
A beautiful alternative to standard earth science textbooks, Plants to Vines stems from the belief that science should be demonstrated and interactive. The app uses detailed audio narration and vivid animations to take students on a virtual journey through the biosphere. The topics and reading can be adjusted based on grade level and teacher preferences.
One Globe Kids
One Globe Kids is a collection of real-life stories from people around the world. Students will learn about cultures other than their own and compare similarities and differences from their own culture and traditions.
Flashnote Derby
Music teachers will appreciate the advanced tools available in Flashnote Derby. Choose between lines and spaces and reinforce students' sight-reading skills. Every correct answer propels your horse forward, while wrong answers will slow it down. As students become more proficient, you can increase the speed and adjust the clefs for a greater challenge.
As technology continues to evolve and grow in the classrooms, and apps like these will increasingly offer great benefits to students and teachers alike. If you want to pursue a future that allows you to use technology to help your students learn, contact Penn Foster College today to learn more about our Early Childhood Education program.