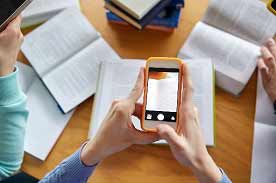 As a pharmacy technician student, you have a lot of information to organize, memorize, and recall. Making sense of so many drug names, safety ratings, side effects, and more may feel overwhelming, but modern technology has proven that there's an app to help with everything! Here are a few handy go-to apps that can help you take steps toward preparing for the Pharmacy Technician Certification Exam (PTCE) and even during your career as a certified pharmacy technician
Epocrates
Used by physicians and medical schools across the U.S., this award-winning medical reference app provides detailed prescription and safety information for just about every generic, over-the-counter, and brand-name drug you'll need to know. Epocrates displays information about recommended dosages, possible side effects, drug interactions, safety ratings, risk to pregnant or nursing mothers, metabolic activity, FDA approval status, manufacturer, price, and more. The premium version, Epocrates Plus, includes clinical practice guidelines, alternative medicine, and additional information used by certified pharmacy technicians.
iGeneric
Android users can find an easy-to-use drug name identifier app in iGeneric (available for Apple and Android products). While not as all-encompassing as Epocrates, iGeneric seeks to help physicians, pharmacists, and other medical professionals find therapeutically equivalent generic drugs in place of brand name drugs. The app draws information from the FDA's Orange Book.
Medical Drug Pronunciations
It's one thing to be able to recall and write down the name of a drug, but it's another task to pronounce it correctly. The aptly-named Medical Drug Pronunciations app for Android comes with correct audio pronunciations of the top 2500+ drugs used by medical professionals. This app can help you practice before a job interview or to use as a handy reference while working as a certified pharmacy technician.
Pharmacy Tech Certification
Another Android app, Pharmacy Tech Certification is essentially a study guide on your phone. The app includes over one thousand multiple choice exam questions, flashcards, and a comprehensive glossary. Users can proceed through 12 learning modules, which cover exam topics ranging from prescription abbreviations to inventory control to conversions and metrics. Pharmacy Tech Certification also comes with a pharmacy news feed and allows users to create custom flashcards, exam questions, and glossaries. The app is geared toward helping users prepare for the PTCB and ExCPT exams.
Pharmacy Technician Exam Prep 2016
The Pharmacy Technician Exam Prep 2016 app for iOS devices lets users create custom practice exams and review detailed answer explanations. The app covers 9 PTCE categories, and the free version comes with 30 prep questions, 14 daily questions, and an exam strategy guide. The premium version offers 800 prep questions, unlimited daily questions, and additional features. Users can prepare for the exam through a study mode and test simulation mode. Exams can be saved and retrieved, and results are recorded for easy progress tracking.
Note that these apps may work well for some people, while others may prefer more traditional study methods. The key is to find your ideal strategy and establish regular study habits to help you take steps toward pursuing a rewarding career as a certified pharmacy technician.