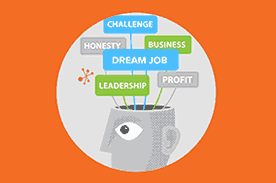 The time immediately after a job interview can be filled with relief, excitement, and uncertainty – often all at once! However, rather than waiting around to hear whether you've been offered the position, try using that time to develop a strong follow up strategy. Follow these steps to keep yourself fresh in employers' minds, and to leave a positive impression with your thoughtfulness and professionalism:
1. Establish a timeline. Before you even leave the interview, ask the interviewer for a timeline regarding the hiring process. Ask questions about when the company expects to make a decision, how they will be contacting interviewees after the interview, and who from the company will be in touch with candidates. These questions are completely normal to ask, and often times this information will be provided by the interviewer at the end of each interview without you having to ask for it. If you're using a job search worksheet, create a column to indicate any important dates.
2. Send a thank you note – ASAP. E-mail the interviewer within the first few hours of your interview – and if you have a smartphone, do it as soon as you leave the interview. This will show hiring managers that you are excited about the possibility of landing the job, while keeping your name fresh in their mind. Let them know that you appreciate the interview opportunity, remind them of the value you would bring to the position, and be sure to include all of your contact information.
3. Start preparing for the second interview. Even though that second interview isn't a guarantee, it's best to start preparing for it while the details of the first interview are fresh in your mind. Write down any questions that you've thought of since leaving the interview, and think about any questions you were asked that you can elaborate on with more time to think about your answer.
4. Follow up one more time if you haven't heard back. If you were told that you would hear back from the company on the following Wednesday, and it's now the following Friday, it's perfectly acceptable to follow up regarding the decision. This follow up can be done via e-mail or phone call. Simply state that you are inquiring about the status of your application and whether a decision has been made or not, and keep it brief and polite.
5. Respond promptly to any further communications. Whether you've been asked to provide more information, come in for a second interview, or have been provided with the status of your application, respond promptly. Don't worry about coming off as too enthusiastic by providing a quick response, as employers are looking for someone who is excited about the prospect of working for their company.
Even if you find out that you haven't gotten the job, having a strong follow up to your job interview can leave a positive lasting impression on hiring managers' minds – and might be enough for them to consider you for an open position in the future. Try the steps above after your next interview to show potential employers that you are serious about your application, and see if your follow up strategy doesn't set you apart from other candidates!
Sources:
How to Follow Up After a Job Interview | Forbes