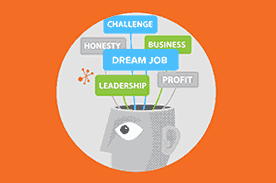 Do you find yourself feeling overwhelmed with your work responsibilities? Have you ever felt lke you're capable of doing more at work but something is holding you back? No matter in what industry you work, your day-to-day workload, or how much you love your job, sometimes staying productive at work can be a challenge. Here are a few tips for staying focused and on-track so you can meet deadlines, complete big projects, and avoid wasting time on the job:
Make to-do lists. When it comes to organizing tasks at work, don't leave anything to your memory. Keep a list of high-level projects with your long-term assignments that require multiple tasks, as well as daily to-do lists to help manage your day-to-day responsibilities, and cross off each item once it's completed. Keeping a to-do list will help you prioritize your different assignments and will help ensure that you don't let any tasks slip through the cracks.
Eliminate distractions. If you work in a busy setting, keeping focused on your work can seem like a job of its own. Create a distraction-free environment for yourself that helps you cancel out any background noise or interruptions to your workflow. Keep your phone off or away from your work area and close any computer programs that might tempt you to veer off course from your work. If you have a particularly busy day ahead of you, let your coworkers know ahead of time that you'll need your own space to focus.
Break down big tasks into smaller pieces. It can be easy to put off a major item on your to-do list because it seems too overwhelming to start. If you have a big project on your plate, break it down into smaller, more manageable tasks. Once you start completing the smaller tasks on our list, you'll be surprised at how possible a once-impossible project seemed!
Stay organized. Tabletop clutter or a busy desktop on your computer can be enough to throw a wrench into your productivity. If you work on a computer, organize your files into folders so you don't waste time throughout your day trying to find what you're looking for. Even something as simple as organizing your office supplies can help you eliminate distractions in your own workspace and help you stay focused on the tasks at hand.
Take short breaks. Taking breaks might seem like the opposite of staying productive. However, taking short, 15-minute breaks every few hours can help you clear your head and regain focus. Take a stretch break, go for a short walk, or do some deep-breathing exercises between tasks to help recharge your batteries and move on to your next project relaxed and ready to work.
Whether you're having trouble sticking to deadlines or simply want to boost your output, there are steps you can take to stay productive at work. Think about how you can incorporate the steps above into your everyday work life, and see if you don't find yourself a more focused worker after eliminating the distractions and unnecessary stress that keep you from getting things done!
Sources

7 Ways to Stay Productive at Work | Careerealism
16 Ways to Stay Productive at Work | The Guardian
5 Tips to Help You Stay Productive at Work | Huffington Post