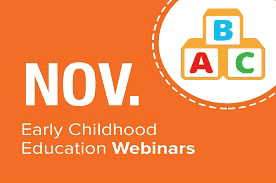 Penn Foster is pleased to offer FREE Early Childhood Webinars to our students and guests! For each live presentation attended, you will receive a certificate to share in your portfolio or to hang in your early childhood classroom/office. Please note that certificates will be given only to those of you that have logged in by clicking on the link sent in the confirmation email. Furthermore, to earn a certificate, you must be logged in for the entire session.
Here are November 2016's Early Childhood Education webinars. Follow the links to register for one or all of our free webinars. All times are Eastern Standard Time.
Monday, November 8 @ 2:00PM EST
Topic – Open Office Hour: APA Citation, Research and Reference Assistance for Early Childhood Papers and Project
Instructor – Betsy Reichart and your team of ECE instructors
Synopsis – Join Penn Foster Librarian Betsy Reichart and your team of ECE instructors for any upcoming APA in ECE Open Office Hour. In this informal Q&A session, we will discuss APA citation, references, research, resources and more. Bring your questions and takeaway information that will enable you to be successful in your Early Childhood courses and written assignments. Attendance is optional for this Open Office Hour; no Certificates of Attendance are awarded for participation in this session.
Wednesday, November 9 @ 8:00PM EST
Topic – But First Do No Harm: A Musical Conversation about Disabilities, Inclusion and Community
Instructor – Lisa Heintz and Joanie Calem, Guest Speakers
Synopsis – Inclusive classrooms require teachers to meet an ever-broadening range of instructional, social and emotional needs. Educators and parents of children with unique needs themselves, Joanie Calem and Lisa Heintz blend Joanie's songs, anecdotes, books and practical tips to facilitate conversation that supports teachers in building a community of diverse learners.
Tuesday, November 15 @ 4:00PM EST
Topic – Wimlo: Communicate with Families to make your Life Easier!
Instructor – Alina Shanazari and Arin Tahmasian, Guest Speakers
Synopsis – Come and join the owners of Wimlo to learn more about the importance of communicating with the families at your child care center or family home program! As an extra bonus, during this session you will learn more about Wimlo, a school communication platform that helps preschool and daycare center directors and teachers to easily communicate with parents via sharing pictures, send event reminders, send emergency alerts and more.
Wednesday, November 23 @ 12:00PM EST
Topic – Making Professional Development Meaningful: Strategies to Assist Teacher's in Holding themselves Accountable for their Learning
Instructor – Kimberly D. Music, Guest Speaker
Synopsis – Early Childhood Educators often spend their PD hours meeting state annual requirements or participating in a training scheduled as a result of an improvement plan. These training sessions can be repetitive or an unproductive use of time. My goal is to teach early childhood educators (birth-5 years) how to make the most of any professional development time, document their own ongoing professional development, and other strategies for optimizing their knowledge in the field.
Wednesday, November 30 @ 12:00PM EST
Topic – Monster Mothers and Furious Fathers: Working with Difficult Families
Instructor – Nancy Moretti, Penn Foster
Synopsis – Why is it that to some families we can do no wrong, but others are always questioning our practices? Join Nancy Moretti to learn tips and techniques to assist you in rationalizing, problem-solving, listening to and negotiating with monster mothers and fuming father's. If we acknowledge the anger or frustrations of the parents for the children that we serve, we can often begin to have a successful partnership with them.