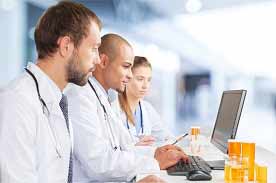 At Penn Foster, we strive to help aspiring pharmacy technicians learn about the many job opportunities within this rewarding field, as well as guide them in building sought-after skills and prepare for future careers with confidence. Whether you are close to graduation or a new pharmacy technician student, we'd like to support your efforts by compiling some of our most informative pharmacy technician blog posts of 2016.
6 Places You Can Work as a Pharmacy Technician
Armed with one of the industry's most versatile skill sets, pharmacy technicians can work in a variety of different settings. Learn about the many opportunities available to you upon graduation and get a clear picture of which career path you want to pursue.
Read the full post
Skills Every Pharmacy Technician Should Have
Speaking of skill sets, pharmacy technicians must be adept at many different tasks in order to succeed. From knowledge of medical terms to attention to detail to interpersonal skills and more, here are some in-demand skills you will need prior to applying for a job in the field.
Read the full post
Go-To Mobile Apps for Pharmacy Technician Students
Studying to earn your pharmacy technician certification requires hard work and dedication - and now, mobile apps! Apps available include lists of drug names, recommended dosages, pronunciation guides, built-in flash cards, and customizable practice exams. These iPhone and Android smartphone apps can give you the edge you need to ace the exams.
Read the full post
Steps to Become a Pharmacy Technician
Like all goals worth pursuing, becoming a pharmacy technician won't happen overnight. You'll need to complete courses, pass exams, earn your certification, and obtain hands-on experience before you can enter the field as a true professional. Take a look at our step-by-step guide and use it to plan your journey to success in this sought-after field.
Read the full post
5 Questions to Expect During Your Pharmacy Technician Interview
You've studied hard, passed your exams, and picked out the perfect wardrobe for your interview. Now it's time to impress your potential employer. Prepare for the interview with five of the most popular questions asked during pharmacy technician job interviews -- and determine how you would answer them. You can also use these questions to come up with a few questions of your own.
Read the full post
Looking for more information on pharmacy technician education programs? Contact Penn Foster today to learn about online courses that fit your schedule.