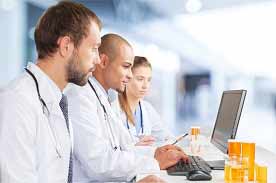 Blog revised on March 3, 2022.
At Penn Foster, we strive to help aspiring pharmacy technicians learn about the many job opportunities within this rewarding field, as well as guide them in building sought-after skills and preparing for future careers with confidence. Whether you are close to graduation or a new pharmacy technician student, check out these blog posts to find out more about the online pharmacy technician program, where you can work as a pharm tech, and more!
1. 6 Places You Can Work as a Pharmacy Technician
Armed with one of the industry's most versatile skill sets, pharmacy technicians can work in a variety of settings. From jobs in retail pharmacies to working in government facilities, skilled pharmacy technicians have the opportunity to build the career they want. In this blog post, learn more about the kind of work you'll do in each setting.
2. Skills Every Pharmacy Technician Should Have
Pharmacy technicians need a variety of skills to be successful in the field, from customer service and organizational skills to career-focused knowledge like an understanding of compounding and medical terminology. As a pharmacy technician student, you want to make sure you learn and develop the skills you need for the job you want. To help you take the first steps toward preparing for your new career, here are some in-demand skills pharmacy technician students will need prior to applying for a job in the field.
3. Memorization Tips to Help You Pass the PTCE
To become a certified pharmacy technician, you'll need to take and pass the Pharmacy Technician Certification Exam (PTCE). This exam has 90 questions and covers a large amount of information, which could be intimidating for some students. While being certified isn't a requirement in every state, it can help you stand out when you're applying for jobs in the field! Take a look at these tips to help you memorize information for your PTCE exam.
4. Steps to Become a Pharmacy Technician
Becoming a certified pharmacy technician doesn't happen overnight. In order to start a career in this in-demand field, you'll need to build skills through courses, hands-on experience, and earn your certification. Take a look at our step-by-step guide to becoming a pharmacy tech and use it to plan your journey to success in this sought-after field.
5. 5 Questions to Expect During Your Pharmacy Technician Interview
As a pharmacy technician student, one of the hardest parts about landing a job may be the interview. But after completing your classes and passing your exams, the least you should worry about are a few questions. You can give yourself an advantage by preparing potential answers for questions any interviewer may ask. Check out the five most popular questions asked during pharmacy technician job interviews -- and determine how you would answer them. You can also use these questions to come up with a few questions of your own!
Looking for more information on pharmacy technician programs? Reach out to our dedicated Admissions Specialists today at 1-888-427-6500!