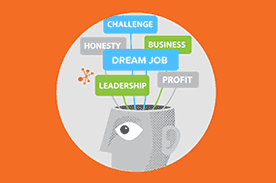 There are several benefits to working from home - increased productivity, creating your own schedule, and ability to focus to name a few - and some careers allow employees the flexibility to enjoy those benefits. If you are a person for whom working from home is a must, these five careers might be worth considering:
Bookkeeping. Bookkeepers produce financial records, record financial transactions, update statements, and check financial records for accuracy. Bookkeepers can work both full-time and part-time, and while full-time bookkeepers may work in offices, many choose to work from home. Successful bookkeepers are detail-oriented, analytical, and independent, so if you have a knack for working with numbers and close attention to detail, a career in bookkeeping might be right for you.
Graphic and Web Design. For people that are creative, innovative, and able to keep up with a demanding schedule, consider further training in design - graphic or web. While graphic designers generally work with images, typography, and branding, web designers typically put a website's layout and functionality first. Regardless of which career path you choose, graphic and web designers alike often work from home - especially those doing freelance or part-time work. Still can't decide which position is right for you? Check out this blog post that clarifies the differences between a graphic designer and web designer.
Freelance Writing. Freelance writers - or copywriters - can work in a wide range of industries, writing anything from marketing and advertising content to technical manuals and textbooks. Like designers, freelance writers must be able to balance their creativity with the discipline and flexibility required to stay focused on multiple tasks at once.
Medical Billing and Coding. Medical coders and billers manage records and insurance forms, and handle billing for clinics, doctors' offices, or private services. While not many careers in healthcare allow employees to work from home, medical billing and coding is one of the few healthcare professions that requires little more than an internet connection! While regulations may vary based on the company for which you are working, working from home as a medical biller or coder generally requires access via a secure connection for HIPAA compliance.
Working from home isn't for everyone, but if you are a person looking for a career change that requires you to work from home - or simply prefer the benefits working from home allows - this list should serve as your starting guide! Still not sure what field you should enter? Check out these career categories, and click through to view more career options based on your industry of choice.