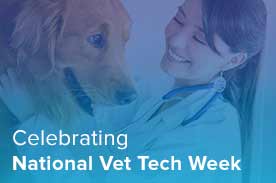 This week is National Veterinary Technician Week (NVTW), created to celebrate the role of those that play vital roles in preserving animal health and welfare. Join us from October 16-22, 2016 as we recognize these dedicated workers in the veterinary field! Here's how we will be celebrating:
All Week (October 16-22)
Veterinary Nursing in Action
Vet tech students who love what they do are asked to spread the word on social and share photos of veterinary skills in action! Do you have a love for animals? Post some photos of your own to social media using the hashtags #NVTW2016 and #PFProud and we'll be sure to share!
Tuesday, October 18 @ 8:00PM EST
Q&A Panel: A Special Webinar for Prospective Vet Techs
With the help of six Vet Tech Student Ambassadors, Dr. Jim Hurrell will host a special Q&A session for prospective veterinary technicians. Have a friend who's thinking about joining the Vet Tech field? Want to be a spectator at the webinar? Simply join in by registering here.
Thursday, October 20 @ 8:00PM EST
Distinguished Veterinary Technician Graduates Webinar
Join Dr. Jim Hurrell and a panel of six amazing Penn Foster graduates as practicing veterinary technicians share their stories, their wisdom, and celebrate this great profession! Save your seat by registering to attend today.
Keep an eye on this blog post throughout the week, as we will be sure to share updates from these great events and more, including our in-office celebration of National Veterinary Technician Week!