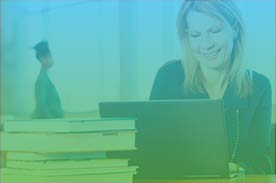 For many people, life can get in the way of continuing your education. There are many options for going back to school at any age - it's just a matter of finding the right fit for you. In today's world, online programs are more popular than ever, helping tens of thousands of people yearly receive their high school diploma, graduate from college, and move on to careers in a variety of fields. Here are three options that can help you complete high school and earn your nationally and regionally accredited high school credential at your own pace and time!
Online high school
With an online high school diploma program, it's easy to fit school into your busy schedule. No matter what your goal, going back to school and getting your diploma can help you on your path to attending college, start a new career, or even earn more money. By enrolling in an online high school program, you'll be able to get a high school diploma at your own pace and when it's convenient for you. When choosing an online high school, make sure the program is properly accredited, like the Penn Foster High School Diploma program. Regional and national accreditation lets you know that the school's program meets the high standards required by accrediting bodies.
Blended learning
For students who are interested in enrolling in college but don't have the high school diploma or GED required for enrollment, a pathway program may be right for you. With Penn Foster's Pathway Program, students can work towards earning their high school diploma at a college near them as a potential pathway to their college and career programs. This program is delivered in a blended learning environment, meaning you can learn in a classroom environment where you can get all of the in-person help you need from a qualified instructor but also study online.
GED
The GED test is another option that allows you to prepare to take the next step in your education, career, or both. The GED tests students on four main categories: Math, Science, Social Studies, and Reasoning Through Language Arts. With resources such as test prep, prep packages, skills training, and more, you can find many different ways to help get ready for the big test! By taking the GED Ready practice test, you'll be able to see the areas in which you'll need to improve and create a personal study plan to help keep you focused on those troublesome topics. You can also use the GED Ready practice test to see if you're likely to pass the real exam.
Whether graduating from high school is a personal goal or you need to earn your diploma to accomplish your professional goals, there are different options available to you. Penn Foster High School can help you earn a regionally and nationally accredited high school diploma online and around your schedule! Need to take or retake a single course to earn credits? We can help with that too.