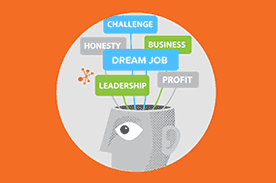 Whether it's an item on your to-do list that you can't seem to start, a project that you're stuck on, or the lack of a challenge in your daily tasks, everyone goes through a slump at work. The worst part about a slump is that it is hard to break. In this week's Career-Focused Friday blog posts, we're giving you five ways to not only survive your mid-day slump, but five ways to kickstart your day so you can tackle your next project motivated and inspired. Here are five ways to break a mid-day slump on the job:
1. Exercise. Taking a brisk, 15-minute walk can help get your blood flowing and break you out of the funk that's been making your day drag. Changing your environment - even if it's only for a few minutes - can help you recharge your batteries, spark your creativity, and return to work with a clear head.
2. Make your goals public. If you've been putting off a project and can't motivate yourself to get started, let others know! Tell your coworkers that you are finally starting that task and how much of it you would like to complete by the end of the day. You might even ask them to help hold you accountable by checking in every few hours to ask about the status of the project.
3. Get organized. Organizing your workspace, computer files, or email inbox might seem like busy work, but often times busy work can help you clear your head! Take a few minutes to clear the mental fog and create a more organized work environment for yourself so you can return to your work refreshed and ready for a clean start.
4. Get ahead. Have you crossed every item off your to-do list for the day? Get a head start on tomorrow by beginning a new task. Even if you have 20 minutes left in your day to start a new project, that 20 minutes can go a long way in keeping you from becoming overwhelmed when more tasks start piling up.
5. Let your boss know. If you find yourself in a slump on a regular basis, it's likely that you aren't being challenged enough in your everyday work life. Let your boss know that you'd like to take on more engaging activities. Most bosses will appreciate your willingness to challenge yourself, and you might find that a change in your day-to-day responsibilities is exactly what you needed to better enjoy your job.
Whether it's by clearing your head, taking on a new challenge, or asking others hold you accountable, surviving a mid-day slump is possible! However, if you find yourself constantly looking for more out of your professional life, you might also want to consider furthering your education. Take the first steps toward learning new skills, furthering your career, or starting fresh in a completely different field with Penn Foster Career School!