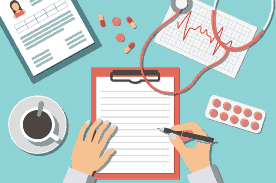 The healthcare industry is complex, relying on dedicated workers in every setting, from hospitals and pharmacies to health insurance companies and more. Health information managers (HIM) tie these elements together into a cohesive network, communicating with professionals at every level. But what exactly do these behind-the-scenes heroes do, and how can you get into this rewarding career field?
What is the role of a health information manager?
HIM professionals possess a diverse skillset built on knowledge in medicine, computer technology, business management, and various other sciences. They can be found managing databases and systems, developing new healthcare solutions through technology, educating employees and industry leaders, and managing their workforce. The primary role of a HIM is to safeguard and ensure the accuracy and quality of medical information. By caring for medical information, they indirectly care for patients.
Where do health information managers work?
Health information managers can pursue careers across multiple healthcare settings, including public and private hospitals, research facilities, healthcare support and administration, skilled nursing facilities, and physicians' offices. Due to the high demand of the HIM skillset, HIMs can also work outside of healthcare in accounting and finance firms, computer science departments, and even insurance companies.
What education and training are needed?
Most health information management positions require either an associate degree or certification in health information technology/management. Health information management programs teach students the fundamentals of anatomy and physiology, medical terminology, health information standards, computer science, medical coding, and other relevant areas of study. While some HIM positions may not require certification, certified professionals have much greater access to opportunities. Requirements for certification vary by state and the type of certification pursued. In addition, most certifications require continued education.
What does the average day look like for a health information manager?
Health information managers work primarily with medical information such as patient histories, lab results, physical exam reports, doctor notes, radiology reports, and more. They also spend time classifying and standardizing various medical conditions and treatments to make the information consistent across multiple health care fields. HIM professionals can also take on leadership roles such as educating employees and managing teams. As new technology emerges, HIMs will tackle new roles and responsibilities.
What is the career outlook for a health information management career?
The Bureau of Labor Statistics estimates employment of HIMs to grow 32% over the next decade, making this field rife with opportunity. Federal health insurance laws and an aging baby boomer population will increase the demand for medical services, and HIMs will be on the forefront making sure the health care network runs smoothly. As more organizations switch to electronic health records, HIMs will be in high demand to keep all of the information safe, up to date, and accessible.
If a health information management career interests you, Penn Foster can help you take the first steps. Reach out to our dedicated Admissions Specialists today at 1-888-427-6500!