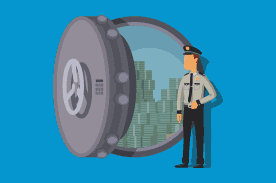 If you're looking for an exciting career that allows you to work in a variety of different industries, look no further than the security guard field. Security guards and safety officers are utilized by retail stores, office buildings, hotels, universities, casinos, stadiums, and more to protect property against theft, vandalism, and illegal activity - and while the training requirements vary, there are a few ways to go about becoming a security guard. Let's take a look at exactly how you scan take the first steps towards working in the field of security services:
Education. While the academic requirements for security guards don't typically extend beyond a high school diploma, obtaining a safety services position without prior experience can be difficult. To get a leg up on the competition, consider a security guard training program to help you learn the basics of this field, like security guard conduct, arrests and detention, and investigations. For those with busy schedules or who simply prefer to learn on their own schedule, you may want to try an online security guard training program.
On-the-job training. Because your roles and responsibilities as a security guard can change based on the setting in which you are employed, most employers will have an on-the-job training period for new security guards. Many states also recommend that security guards receive approximately 8 hours of pre-assignment training, 8–16 hours of on-the-job training, and 8 hours of annual training. This may include training in protection, public relations, report writing, deterring crises, first aid, and other specialized training related to the guard's assignment.
Licensing and certifications. While requirements for security guards vary by state, basic qualifications require security officers to be at least 18 years old, pass a background check, and complete on-the-job training. Guards who carry weapons usually must be registered by the appropriate government authority. Armed guard positions have more stringent background checks and entry requirements than those of unarmed guards. Rigorous hiring and screening programs, including background, criminal record, and fingerprint checks, are required for armed guards in most states.
If you're serious about a career as a security guard, don't go in blind. Consider getting a head start on your career with an online security guard course - or, read up on some of the must-have qualities of safety officers to see how your skills match up with those of successful security guards!