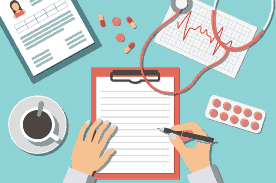 Originally published on AffordableCollegesOnline.org
Pharmacy employees form a key part of today's healthcare system. Safely handling medications, filling and pricing prescriptions for customers, managing inventory – these are just some of the many rewarding tasks associated with a pharmacy technician career. Online pharmacy technician schools prepare students to fulfill the essential job responsibilities, from assisting the pharmacist with preparing prescriptions to helping customers and patients.
Earning a pharmacy technician certification online is a significant accomplishment for someone pursuing a career as a pharmacy technician, but it is just one of many. The steps below identify potential milestones a pharmacy technician might accomplish while working in the profession.
Milestone 1: Successfully complete a training program –  Complete an online pharmacy technician education and prepare for the certification exams.
Milestone 2: Complete externship – Gain valuable and real-world experience with a hands-on pharmacy technician training externship.
Milestone 3: Certification – Gain certification from the Pharmacy Technician Certification Board by successfully passing the Pharmacy Technician Certification Exam (PTCE) and the ExCPT certification exam.
Milestone 4: Entry-level job – Assisted pharmacists in dispensing medication in a local retail store.
Milestone 5: Specialized training – Completed training in pharmaceutical compounding to expand skillset.
Milestone 6: Promotion – Earned position as a Senior Certified Pharmacy Technician (CPhT) at a hospital pharmacy.
Milestone 6: Moving Up – Became the hospital pharmacy's lead CPhT within five years.
Does this milestone map sound like something you would like to make your own? Consider online pharmacy technician training to take the first steps towards your first milestone!