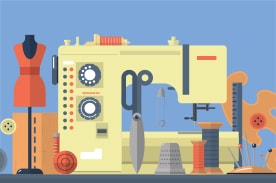 Career experts and parents generally have one piece of advice they give in common: do what you love. This could be studying a subject in school that you care about or pursuing a job in a field you're passionate about. Most of us, however, end up considering salary, career advancement, and opportunity when it comes to finding a job and not "do I love this? Will it make me happy?" There's absolutely nothing wrong with that; after all, we need to be practical. We need to buy food, pay for shelter, and often, what we love won't provide those things for us. But every now and then, if we're lucky and savvy, we can turn a hobby we love into a job we're passionate about. One artsy hobby that can become your business is Jewelry Design and Repair.
You may have started crafting handmade jewelry when you were almost too young to remember learning how. Macaroni necklaces and knotty string friendship bracelets were your go-to handmade gifts. As an adult, how do you translate your love of jewelry and art into a career that provides a steady income?
Decide what materials you want to work with
. Jewelry isn't just diamonds and precious metals. Depending on your budget and what you prefer, you can work with stones, wood, plastics, glass---basically, anything that you can shape into something else! Some materials are easier to work with than others, of course. Plastic beads and pendants you purchase already made will be relatively easy to use, while creating your own beads out of wire, clay, or glass is going to be more time consuming and require studying how to make the material beautiful.
What kind of jewelry are you going to make?
Are you thinking of extravagant pieces that take you months to design and create? Or do you want to make funky bracelets for children? Obviously, you don't have to make just one type of jewelry; you'll probably make rings, necklaces, bracelets, whatever strikes you in the moment. But having an idea of the style you want to create gives you a place to start as far as buying materials, tools, and even whether or not you need some more training in the art.
Where can you work as a jewelry designer?
There are quite a few options a jewelry designer can choose from. The steadiest positions are found working in fine jewelry stores and jewelry departments in department stores. There, you'll repair or size jewelry for customers, as well as perform requested maintenance on pieces, such as a wedding or engagement ring. You may also make suggestions for those looking to purchase gifts and are unsure of the different metals, stones, and designs. Or, you can start your own business! Many jewelry designers have their own online shops where they sell only the pieces they create. With companies like Etsy.com and the affordability of domain names, it's easier than ever to launch your own business on the side.
If you love creating unique jewelry and have graduated from macaroni necklaces, pursuing a career in Jewelry Design and Repair may be just the thing for you! It's not always easy to turn your pastime into your profession, but with dedication and love of the craft, you can find success doing what you enjoy!