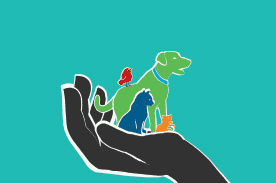 Do you love animals and caring for them? If so, you've more than likely considered a career in animal care. Maybe you even dreamed of becoming a veterinarian like Dr. Doolittle when you were young, hoping to be able to speak to animals so you can help them get better! Though we do learn, eventually, that animals can't talk outside of movies, many still want to work in a field that helps animals of all species. But how can you break into the animal care field without spending years earning a bachelor's degree, followed by more time in veterinary school? Or what if you want to help animals, but don't want to deal with the sadder side of veterinary medicine? There are several options to get started in the field, particularly becoming a veterinary assistant!
Why should I become a veterinary assistant?
According to the Bureau of Labor Statistics, veterinary assistant jobs are on the rise, with a better than average growth rate for open positions becoming available over the next ten years. Becoming a veterinary assistant also allows you to break into the animal care field with a shorter period of study and training! As a vet assistant, you'll assist the veterinary technicians and veterinarians with basic wound care, animal restraint during examinations, and taking care of the office work, as well as being able to assist and comfort worried pet parents. You're a crucial part of a veterinary practice, without having to be the one assisting in surgery or other bloody tasks that fall to vet technicians.
What would I do as a veterinary assistant?
Besides basic wound care, restraining the patients, and taking care of scheduling appointments and sorting paperwork, a trained vet assistant will also help the techs and doctors with giving animals their shots and other medications. You'll also be responsible for daily tasks such as feeding, bathing, and exercising animals that may be in the office or clinic for extended periods. You could also be responsible for cleaning kennels and sterilizing surgical instruments, depending on the office you work at.
How do I become a veterinary assistant?
First, a love of all animals is a must when you're considering becoming a vet assistant. Over the course of your career, you'll find yourself in quite a few messy situations with nervous or sick animals so must be patient and caring. While formal schooling isn't required by every vet clinic, office, and hospital, having documented education in the field can help you be a stronger candidate for an open position. Even more helpful, if you attend a school or program that is approved by the National Association of Veterinary Technicians in America, you'll be able to sit for the Approved Veterinary Assistant exam and get certified! Penn Foster's Veterinary Assistant program is one of only three online vet assistant program approved by NAVTA, so if you need a self-paced program to fit your life, it may be a great option for you.
Even if you're sure you do want to become a licensed vet tech or veterinarian, starting as a veterinary assistant while you're going through school can provide you with experience, mentors, and a confidence in your future profession. Check out Penn Foster's online Veterinary Assistant program, one of only three online vet assistant programs approved by NAVTA for more information on breaking into the animal care field!
Source
Veterinary Assistants | Bureau of Labor Statistics