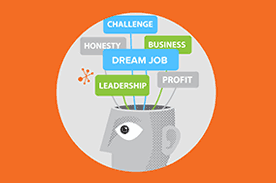 How you utilize your social media presence can impact your career. These days, almost everyone you know, from your great grandmother to your favorite barista, uses social media like Facebook or Instagram regularly. We use it to connect with our friends, family, and stay up to date on news. With people sharing the smallest details of their lives on their social media pages, employers have taken to searching or scanning a prospective hire's profiles for any red flags. Besides discreetly checking out your personal Facebook page, a potential employer may ask for your LinkedIn information.
LinkedIn is a social media company that launched back in 2003 as a method to network with other professionals. Today, the site has 332,000,000 members from across the world. Over the years, it's also added the ability to search and apply for jobs through the site, as well as convert your profile into a resume that you can send to hiring managers and connect with those in your network for career opportunities. It's an effective tool if you know how to use it and is, often, underutilized when we're hoping to move up in our field or even find a new career. Here are a few tips on using your LinkedIn profile as effectively and efficiently as possible!
Fill out your profile as much as possible. And keep it updated! You want to think of your profile as a more detailed resume. There, you're able to include examples of your work or go into more detail about opportunities you've had. "The more thorough you are in describing yourself," a Real Simple article says, "the easier it is for an employer to assess your qualifications."
Log in often.There's no point in a dead, empty profile. If you're looking to network with those in your industry or are searching for new career opportunities, sharing your LinkedIn profile with others when it's not active is a waste of time. Log in at least for a few minutes each day and, just like you would update your resume, update your profile information. If you have time, it is also worth it to spend a few minutes browsing the updates from people in your network and interacting with them and their posts.
Connect with your network. Actually engage with coworkers, peers, bosses, and friends on LinkedIn. LinkedIn isn't Facebook, so you want to only share pictures, documents, and work that is professionally relevant.
Use a professional photo. You shouldn't leave your profile picture blank. Doing so can make your profile seem unfinished and other professionals may be less inclined to connect with you. You don't have to get a professional photographer to take photos of you, but use a picture that is appropriate. Generally a headshot of shoulders up is best.
Having a detailed, well-developed LinkedIn profile isn't necessarily going to make or break your chances of getting that job you've dreamt about. But with more and more professionals and businesses using sites like LinkedIn to find new talent, it can be helpful to be able to provide a quick link to a hiring manager. Any small thing can help you be successful, so it's worth using all your resources when looking for the perfect career!