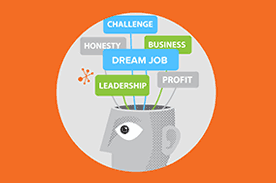 Nine out of ten employers say that they need employees with soft skills. Soft skills - what we like to call power skills - are personal attributes that enable someone to interact effectively and harmoniously with other people. Basically, soft skills are what makes you a team player, an effective decision maker, and a great problem-solver, among other things! What's more, companies across the United States say that it is becoming increasingly difficult to find applicants who can communicate clearly, take initiative, and get along with all kinds of co-workers.
To make themselves more marketable in the workforce, and to add a useful certificate to their resumes, several Penn Foster Student Ambassadors took and recently graduated from the Career Readiness Bootcamp program. This program is meant to teach you new skills you can utilize confidently in the workforce, or help you refresh some skills you haven't used for a while. Check out what they had to say about their time in Bootcamp.
"It's helped me in my day-to-day life, with my day-to-day decisions, and with my future career choice!" - Jessica, Veterinary Technician student
"Career Readiness Bootcamp is a very in-depth course on the exact tools you'll need to succeed." - Maveric, Dressmaking & Design and Medical Billing & Coding student
"This program gives you all the information you need to become a successful employee in the workforce!" - Tiffany, Medical Assistant student
"This program provides valuable information on how to present yourself professionally in your job and how to interact with people on a professional level." - Amanda, Vet Tech student
"I honestly wish Career Readiness Bootcamp had been available when I first started in the workforce. I would have been a much better employee. It's priceless!" - Magen, Vet Tech student
"Career Readiness Bootcamp has helped me greatly in my current job. By learning all that I did, and applying what I learned to my job, I have been promoted to Assistant Manager!" - Markcus, Wildlife/Forestry Conservation student
If you're new to the workforce, on the hunt for a job, or just want to refresh some old skills and take on more responsibility at work, the Career Readiness Bootcamp might be right for you, too! Check it out here, and see if soft skills training is the shot in the arm your career needs.